Tall Heights plays Back Room at Colectivo
Hang on for a minute...we're trying to find some more stories you might like.
The Back Room at Colectivo was alive with the electro-acoustic music of Tall Heights and openers Frances Cone and Old Sea Brigade Oct. 14.
The room, adjoined to the Colectivo cafe on Prospect Avenue, had tables pushed to the side to make room for a standing audience. Overhead were skylights and rafters holding plants and fairy lights. The crowd consisted mostly of couples and small groups of friends holding coffees from the cafe or drinks from the bar in the back room. While the audience grew as the night progressed, the room never filled close to capacity. In my opinion, the coffee-shop vibe, chill music and intimate crowd allowed for the perfect setting to experience a night of indie-folk music.
Although going in to the concert I did not recognize the names of either of the openers, to my surprise each band performed a song that I was familiar with.
Frances Cone opened the show. Named after lead singer Christina Cone's father and great-grandfather, the band includes Cone, Andrew Doherty and Aaron Hamel, as well as a touring guitarist who, Cone said, was only on his fourth performance with the band.
Cone had a casual, laid-back stage presence. She addressed the crowd multiple times throughout the set, commenting that it was her first time visiting Milwaukee and that she appreciated everyone's relaxation with the fact that the concert began a few minutes late. She made some jokes and expressed her gratitude on sharing the stage with a number of immensely talented and attractive men.
Cone's voice was captivating. She has a breathy, yet powerful voice that blended beautifully with the band's sound. I got very excited when I recognized the song "Arizona."
Old Sea Brigade took the stage next. Singer-songwriter Ben Cramer's smoky tone, accompanied by his guitar and small band, was very appealing and added to the chill atmosphere. Again, I was caught off guard by realizing I knew his song "Love Brought Weight."
It was like I unknowingly attended a concert featuring some of the best songs from my Spotify's suggested songs playlist.
After incredible sets by the two opening bands, Tall Heights took the stage. A duo made up of singer and guitarist Tim Harrington and singer and cellist Paul Wright, Tall Heights combines acoustic harmonies with electric sounds. The band has been categorized as "electrofolk" or "folktronica," but according to their website, Tall Heights's sound is always evolving, while simultaneously keeping a constant, signature sound, recognizable to the same stripped-down acoustic music the duo began playing when they started out in 2010, performing acoustically in the streets of Boston, Massachusetts.
The duo just released their most recent album, "Pretty Colors for Your Actions" this month, and are on their first headlining tour. Tall Heights performed most of their songs with a band — a drummer, a bassist and a third man covering a variety of sounds including keys, saxophone and trumpet — but Harrington and Wright distinctly carried the show.
They were extraordinary live performers. The duo shared a laid-back persona that made the concert feel a little like an informal jam session, despite the powerful speakers and colored lights. The blend of their instruments and voices was stunning.
For the song "Cross My Mind," Harrington instructed the audience to take out our phones and call a person standing next to us. Each pair put their phones on speaker and held them screen to screen. Harrington did the same with his and Wright's cell phones. The feedback created a cricket-like ringing effect for the electric ballad.
For one song the band left, and Harrington and Wright performed by themselves. They asked the audience for requests and ended up performing "Learn Again," just the two men and their instruments. Authentically simple, it may have been my favorite song they played that night.
Another notable performance was "Horse to Water." It was the song that introduced me to Tall Heights and I had been looking forward to hearing it live. The performance did not disappoint.
The band ended the show with an encore of their song "Spirit Cold." But before that, Wright led the audience in an impromptu song that he recorded as a message for a member of the band's entourage who missed the concert. It was a small thing, but really showed the beneficial intimacy of a small venue. During Tall Heights' set, members of the opening bands also came out to watch in the audience, and the performers all seemed very casual and personable.
Possibly because I went into this concert with no prior expectations, I was blown away by the concert. It was honestly a little difficult for me to believe how small the concert was and that a ticket only cost me $18 with the amount of talent performing onstage. I can confidently say that the Back Room at Colectivo is my new favorite Milwaukee venue, and all three bands have moved to the forefront of my radar.
Tall Heights' "Pretty Colors for Your Actions" tour is continuing throughout the Midwest. They will be in Chicago Friday and Madison Sunday. For a list of upcoming tour dates, visit http://www.tallheights.com/tour/ 

About the Contributor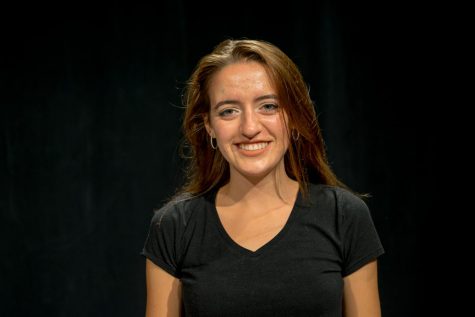 Kelli Arseneau, Assistant A&E Editor
Kelli Arseneau is an assistant arts & entertainment editor for the Marquette Wire. She is a junior from Frankfort, Illinois, majoring in journalism...