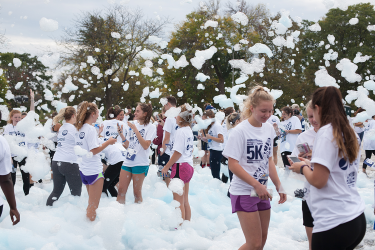 As a part of the Homecoming festivities this year, Marquette's Glow Blue and Gold Foam 5K Run/Walk will be Friday at 6:30 p.m. at Veterans Park. and features Marquette-colored foam with a giant foam tower to meet runners as they cross the finish line.
This year, the entrance fee for the race will be $25 for Marquette students and $30 for non-students. The university also offers a free shuttle transportation service down to the lakefront from 5-6:30 p.m.
The proceeds from the race will be donated to Midnight Run, an organization on campus that provides assistance to the homeless through a number of student-led volunteer opportunities.
Before the race, students, alum and families can enjoy the Lakefront Bash which will start at 5 p.m. at Veterans Park, complete with games, food trucks, and music.
Since the reintroduction of Homecoming in 2016, it has become an annual week-long event packed with festivities that culminate in a concert headed by a popular band.
Michael Uy, a freshman in the College of Business Administration, participated in the run last year as a senior in high school. Uy said it was the perfect picture opportunity.
"The foam part came in exactly when you started," Uy said. "You go through a line and the foam is everywhere. You are in this goo the whole time you are running. … At the very end, we took a picture because there was so much foam."
This year, while the central concept of the gold and blue foam is the same, the run has been moved from Saturday morning to Friday evening.
Olivia Paloucek, a sophomore in the College of Health Sciences, ran the race last year and signed up to run again this year. Paloucek said she enjoyed the atmosphere of the race last year.
"There are people cheering you on constantly throughout the race," Paloucek said. "It was a really good atmosphere. Everyone was really happy to be there. Everyone is cheering each other on (and) it doesn't matter what pace you are going. It's a really cool experience."
Addy Donahue, a freshman in the College of Arts & Sciences, said she is looking forward to both events, which she thinks will be influential in keeping students on the lakefront and enjoy the festivities.
"I think the Bash before the race is a really great idea because people will come out for the activities and hang out with their friends," Donahue said. "Then when the race starts, they will all be there (to) cheer their friends on."
The Lakefront Bash and Foam 5K presents students with the opportunity to spend the evening outdoors and off-campus.
Uy said the Foam 5K is perfect for hanging out with friends in a relaxed atmosphere. Uy said he would encourage others to participate in the event.
"(Last year) was a good experience," Uy said. "Music was playing and there was food. A lot of people were organizing it and I remember there was a DJ there. … It was super fun, especially if you get a group of friends (and) you can take awesome pictures to post on Instagram."
Despite being largely organized and run by students, the Lakefront Bash and Glow Blue and Gold Foam 5K is also open to alumni, family of Marquette students and residents of the area.