Volleyball defeats Villanova in straight sets
Following their first BIG EAST home win, the No. 20 Marquette Golden Eagles swept the Villanova Wildcats at the Al McGuire Center Saturday night (25-10, 25-23 and 25-19).
Marquette dominated the first set, taking a quick 11-4 lead. Despite taking a timeout early in the set, Villanova couldn't slow down the Golden Eagles' momentum. Marquette was on a roll and won the first set handily 25-10.
In the first, Marquette had seven service aces and its highest hitting percentage of the night at 0.417. Redshirt senior Jenna Rosenthal had an attack percentage of 0.750, capitalizing on six of her eight kill attempts. The Wildcats struggled with their offense in the first, collectively only hitting at a 0.154 clip with four errors on eight kills.
"Our serving made it pretty easy to play defense," head coach Ryan Theis said. "Martha (Konovodoff) made a couple of spectacular plays. We had a couple of overhand digs which we've been working on."
However, the second frame was a completely different atmosphere, as Villanova took an 11-9 lead to begin the new set. It seemed as if the Wildcats had stepped it up, but the Golden Eagles battled back to regain a 15-13 advantage.
"First game we started off strong," senior outside hitter Anna Haak said. "Then (the) second (set), we were not as good as those same things we were good at in the first."
The remainder of the set was neck-and-neck with a total of 10 tie games and two lead changes, majority of which were toward the end of the second. Following a Marquette timeout and challenge, the Golden Eagles narrowly finished the second set 25-23.
"I think they're (Villanova) really good at bouncing back," Theis said. "It was just a matter of trying to steady and play even."
Marquette combined for a hitting percentage of 0.317, while Villanova improved its attack to 0.265 after limiting unforced errors.
With the Golden Eagles leading by two sets in the third, the Wildcats desperately tried to stay alive in the match, taking an early 4-1 lead. It was short-lived, though, as Marquette went on a 7-0 scoring run to recapture a 10-5 advantage.
The energy stayed with the Golden Eagles. They went on yet another 4-0 scoring run, sustaining their 16-8 lead. Villanova tried to cut into the deficit, reaching within four points at 19-15, but ultimately Marquette prevailed 25-19.
Marquette's leaders were Rosenthal and junior Allie Barber, who were tied with 15 kills. Barber notched her 1,000th kill of her career. Junior Lauren Speckman led the Golden Eagles with 21 assists, and Konovodoff had a match-high 17 digs.
"Overall we had a pretty good game," Haak said. "There were definitely some ups and downs."
Meanwhile, Villanova's leaders were Mallory Potts and Clare Delaplane with 10 kills apiece. Emma Decker posted a match-high 30 assists. In the final set, the Wildcats had their best hitting percentage of the match at 0.294.
The Golden Eagles (12-4, 3-1 BIG EAST) will host the Xavier Musketeers (4-11, 2-2 BIG EAST) Wednesday. First serve is set for 11:30 a.m. in Milwaukee.
"The offensive game would be good if we could bring (it) with us," Haak said. "We're going to work a little more on digs and blocks."
About the Contributor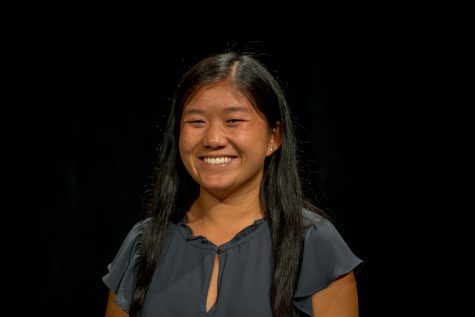 Zoe Comerford, Executive Sports Editor
Zoe Comerford is the Executive Sports Editor for the Marquette Wire. She is a senior from Naperville, Illinois, majoring in Journalism and Digital Media...