A group of students is attempting to shed light on Marquette's alleged revenue gain of more than $100,000 in fiscal year 2016 from its investments in The Baupost Group, a Boston-based hedge fund that owns nearly $1 billion in sales tax bonds of Puerto Rico's debt.
Hannah Badeau and Sara Zaleta, both seniors in the College of Arts & Sciences, founded the informal group this semester, calling themselves the Marquette Coalition for Puerto Rican Debt Relief.
Zaleta said the students obtained copies of the university's 990-T tax form through the non-profit organization GuideStar, which says its mission is "providing information that advances transparency" through its online data services. Badeau said a professor, who she declined to name publicly because he or she is untenured, approached her with the investment information.
With hopes of incurring profit when Puerto Rico pays back sales tax bonds used to buffer its nearly $70 billion debt, Zaleta and Badeau said Baupost has advocated for austerity measures on the island. These measures include cuts to the pension system, prison closures, school closures, reductions in subsidies to the University of Puerto Rico, cuts to sick and vacation pay and consolidation of police stations and state agencies, among others.
"The idea is that if you cut the spending here, you can redirect those funds somewhere else," said Michael McCarthy, an assistant professor in the Department of Social and Cultural Sciences. He said hedge funds advocate for spending cuts on the island in an effort to receive money owed to them.
"This gets into the moral question, which is, is it right to make Puerto Rico pay off its debt if the result is just going to be an even worse economic crisis and even worse debt down the line?" McCarthy said.

In an October 2017 letter to investors, Baupost founder Seth Klarman said the hedge fund started its Puerto Rican debt investments in 2015. He said Baupost last purchased bonds in 2017 prior to Hurricane Maria, which hit the island in September of that year.
Zaleta said austerity measures, especially following Hurricane Maria, would negatively affect Puerto Rico's most vulnerable populations during the recovery process — including the approximately 44 percent of Puerto Rico's population who live in poverty, according to a 2017 census survey. That is more than double the poverty level of any other U.S. state or territory.
Updated government assessments show Hurricane Maria killed 2,975 people and left survivors without access to basic needs.
"The hurricane – what it brought to light – is a wide assortment of issues that have everything to do with a response to a natural disaster, but more importantly, have to do with things like infrastructure, education, financial stability and economic access for Puerto Rican residents," Sergio Gonzalez, an assistant professor of Latinx Studies, said.
McCarthy said austerity measures on the island would reduce services for people who are desperate for aid.
"It's almost an absurdity in and of itself," McCarthy said. "It seems totally morally backward."
Baupost spokesperson Diana DeSocio said the hedge fund has never advocated for austerity measures or demanded full repayment of Puerto Rico's debt.
"Baupost plans to continue to be a constructive partner in seeking a restructuring resolution that results in a fair outcome for all parties, including the people of Puerto Rico," DeSocio said in an email. "A full and sustainable financial recovery for Puerto Rico is in the best interest of all constituents, including creditors."
Badeau said Marquette's urge to continue investing in a profitable hedge fund is understandable, but she said she hopes the university will use its influence to elicit change.
"That's really our number one ask, is to get them to hopefully get Baupost to lower their austerity measures or just get rid of them because that's the crux of the issue," Badeau said. "Marquette is invested in Puerto Rican austerity."
DeSocio noted that a debt adjustment plan agreed to by some bondholders will be filed in federal court Oct. 15, which means Puerto Rico would have to pay back 32 percent less on its sales tax debt if approved by a judge.
The university also gained more than $571,000 in revenue in fiscal year 2015, as well as more than $552,000 in revenue in fiscal year 2014 from its partnership with Baupost, according to GuideStar tax documents. Fiscal year 2017, which ended June 30, was unavailable on the site.
The available tax documents indicate the university gained more than $1.2 million in total revenue from its Baupost investments from July 1, 2014 to June 30, 2017.
"I think the knee-jerk reaction from all of us is that it's wrong," Badeau said. "We're a Jesuit school and we're supposed to be socially responsible, and I'm pretty sure we send people on service trips to Puerto Rico. We have recruiters in Puerto Rico. That's not right."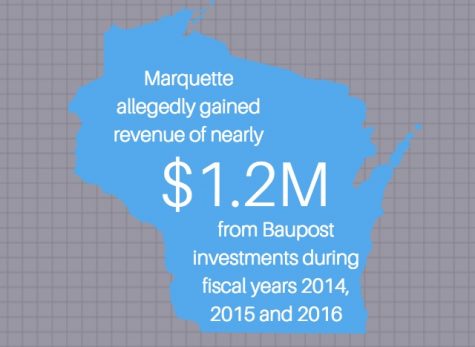 Gonzalez said he talked with Badeau and other students in his class about Marquette's alleged investments.
"Students are pointing to a real irony that exists, in that the university has thankfully ramped up their efforts to recruit Latino students to give them a feeling of belonging on this campus," Gonzalez said. "But I think the university still has a bit of ways to go to look at some of these other connections that it has in places like Puerto Rico."
Zaleta said the university is betting against its own Puerto Rican students through the investment.
"It's basically like taking money from the parents or from actual Puerto Rican students here and investing that, and then profiting from the pain and suffering of the families of these Puerto Rican students," Zaleta said.
University spokesperson Chris Jenkins said the university cares deeply about the people of Puerto Rico, including students and families who are affected by current challenges facing the island.
"The university is committed to ethical investing practices, while acknowledging that there is often a wide range of views when it comes to complex financial matters," Jenkins said in an email. "We encourage our government leaders to forge ahead with comprehensive policies that will help Puerto Rico recover and thrive."
McCarthy said hedge fund investors are not always aware of exactly where invested money goes or how it is managed.
"You'll see the fund gets a certain rate of return, you'll invest in it because it has a good reputation, things like that," McCarthy said. "But I think most people that contribute their money to these funds are ignorant about how the money's being used."
Investors have two choices in order to affect a hedge fund's actions, McCarthy said. He said they can voice concerns or exit the fund.
"Divesting is a form of influence, but so is raising the issue and sort of raising public awareness of it," McCarthy said.
To raise awareness about Marquette's alleged ties, the Marquette Coalition for Puerto Rican Debt Relief is tabling in the Alumni Memorial Union and partnering with Marquette University Student Government to formulate a plan.
Dan Brophy, MUSG legislative vice president, said he came across the coalition's table in the AMU Sept. 24 and thought it was a "valuable and worthwhile initiative."
"This is something that shouldn't go nowhere just because the university doesn't want it to," Brophy said. "We think that we have the ability to bring a bunch of groups together for one cause."
Brophy said he plans to fuel his "energetic anger" into action. He added that MUSG can bring together many student organizations in support of this effort.
"My initial reaction was a mix of disgust, disappointment and surprise," Brophy said. "If we are a socially responsible university, our investments should be socially responsible."

Zaleta said the student group received about 200 online petition signatures as of Wednesday evening.
"It's a human rights violation. I don't know why other people wouldn't be invested in it," Badeau said. "I couldn't give you any specific reason why I feel more inclined to do it than someone else."
Students at other universities, including Harvard University and Yale University, have protested against their own university's investments in Baupost. In January and March, the Harvard Crimson reported on divestment rallies. Also in January, the Yale Daily News reported divestment protests on its own campus.
Brophy said it would be easy for the university to divest from the hedge fund.
The Marquette Coalition for Puerto Rican Debt Relief is planning a day of action for Thursday, Zaleta said. Badeau said the group is not releasing specifics yet.
"As of right now, we just want to call attention and … demand that (university officials) use their influence because they probably do have a ton influence if they're investing all this money into Baupost," Zaleta said. "Tell them, 'Hey, stop pushing Puerto Rico to adopt these austerity measures.'"
Gonzalez said he is heartened to see students taking class lessons and applying them to real-world situations.
"Any dollar that's gained off the misery of the Puerto Rican people is a dollar too much," Gonzalez said. "It's the university's money, and so if students are asking them to review those investments, I think they should do so."
View the links below for the documents referenced in this story.
All documents were retrieved from non-profit organization GuideStar.
This story was updated at 6:15 p.m. Oct. 2 with quotes from Baupost spokesperson Diana DeSocio.