From European Nationals to Al McGuire Center, Haak improves leadership
Senior outside hitter Anna Haak had the experience of a lifetime this summer, competing in the 2018 Women's European Volleyball League with the Swedish national team.
The Angelholm, Sweden native has been playing with the team for about four summers but couldn't play in 2017 because of a surgery.
The tournament season lasted from May 19 to June 20, and it consisted of two divisions. The higher was the Golden League, which had 12 teams. The Silver League had eight teams. In each division, the teams were split into four-team pools where the winners of each pool, plus the host of the final rounds, advanced to the semifinals.
This event is the qualifier for two teams for the 2018 Federation Internationale de Volleyball Women's Challenger Cup, which can then lead to a 2019 FIVB Volleyball Women's Nations League berth.
The rigorous schedule closely resembles her routine as a Division I volleyball athlete. Even though the players had three weeks off in the middle of summer, it was still a lot of preparation. The team had two practices each day and exhibitions against other countries.
Through the course of the summer, Haak and her team traveled to nearly 10 European countries to go head-to-head against other elite teams. During the team's two to three off days, Haak and her teammates experienced some sightseeing in different countries, although most of their time was spent on the court. Trips included Ukraine, Kosovo, Estonia, Turkey, Azerbaijan and the Czech Republic.
"We had a few games that were super important," Haak said. "There were, like, 10 of them during the whole summer."
Sweden was the semifinal host in the Silver League, where they first swept Albania 3-0 and defeated Austria 3-1 in the finals to win the Silver European League.
"We actually won (the Silver League), which was pretty cool because it was the first time they were organizing that event," Haak said. "That means that next year, we will advance to the Golden League, which is even better competition. So that's a huge goal we accomplished."
Her work for the Swedish national team is not finished though. Haak will go back in January to compete in the European qualifications.
In both the semifinal and the final, Haak posted 15 points and was the second-best scorer for the Swedish team. The top scorer was her 19-year-old sister, Isabelle Haak. Isabelle posted 25 points in the semifinals and 38 points in the finals.
"It's been a while now, two years (since previously playing with Isabelle)," Anna said. "It was really fun to see how she developed and all of that. We have a different dynamic because we're sisters, so it's always extra fun to play with her."
Anna's chemistry on the team goes beyond her relationship with Isabelle, however.
"We have a really good dynamic, and everyone's on the same page," Anna said. "Many people bring energy to the team. It's one of our priorities, so we talk a lot about it."
With her sister already playing professionally, Anna knows going pro could be a possibility for her after her last season with the Golden Eagles.
Haak began playing volleyball at age 10 when her friend's dad started a club in her small hometown. From the moment she stepped on the court, she said she loved playing volleyball. Eventually, she decided to leave Sweden to play for University of Miami.
"I was there for two years, but I wanted a better volleyball program," Haak said. "I came here, and I'm very happy about it."
Marquette head coach Ryan Theis said he has seen significant improvements in Haak's game since she transferred a year ago. Theis said she is athletic, springy and high energy with a natural touch on the ball.
"Where she's gotten better is just in her range attacking," Theis said. "Every hitter has a comfort zone of where they like to hit it, but I think she's really expanded that and that's made her much better."
Theis said he believes Haak learned a lot over the course of this summer playing international volleyball, which includes some skills that she can bring back to Marquette.
"There's a pretty high emphasis on point scoring and getting kills at that level," Theis said. "That made her a more aggressive attacker, which is a good thing."
Haak's biggest takeaway from the summer, besides increasing her swing speed, was improving her leadership skills. Even when her teammates make a mistake, she said she always needs to be supportive.
"We learned a lot about team dynamics and how important that is," Haak said. "Even when we were so tired some points, we just have to keep bringing it because it's so important … If there was one game we didn't, we would play significantly worse."
In her final year wearing blue and gold, Haak has potential to be a crucial part to the Golden Eagles offense. Haak said she knows her team has the talent to make a run in the NCAA Tournament past the first weekend.
"We'd like her to score between three and three-and-a-half points a game and be pretty efficient while doing it," Theis said. "So far she is doing a really good job of that. She's not giving away a lot of points."
The goal for Haak and her team is clear: win a BIG EAST Championship and make a long run in the NCAA Tournament.
About the Contributor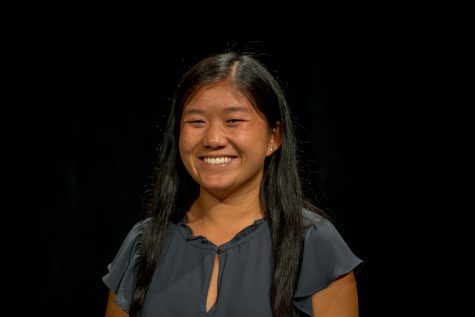 Zoe Comerford, Executive Sports Editor
Zoe Comerford is the Executive Sports Editor for the Marquette Wire. She is a senior from Naperville, Illinois, majoring in Journalism and Digital Media...