Madison resident Sarah Aken was scuba certified and had dived nearly a dozen times when she injured her spinal cord in 2012. Several years after adjusting to her injury, Aken says she wanted to experience the freedom and weightlessness of diving again. Her online research eventually led her to the pool at the Helfaer Recreation Center through a nonprofit called DiveHeart.
DiveHeart teaches scuba diving skills to people with physical and cognitive disabilities, says Sarah Repka, a dive instructor from DiveHeart. The organization has partnered with Marquette's Adaptive Abilities Club the past three years to host scuba diving sessions in the pool at the Helfaer Recreation Center.
Repka, who has been scuba certified since 1989, began teaching through DiveHeart in 2010 when she saw a video of a woman with no arms and legs scuba diving.
The best parts of helping people with disabilities dive are "looking at people's smiles, watching them succeed, and pushing themselves and being pain free," Repka says.
DiveHeart provides scuba instructors and gear, and Marquette offers student volunteers who help participants put on their equipment and get into the water. Aken says that it's such a comfort to have skilled and compassionate instructors from DiveHeart facilitating scuba diving.
"I think a lot of issues that people with disabilities face is that so many things that a lot of people take for granted is scary," Aken says. "Getting out of your chair is scary. Relying on other people to make sure you're safe is really scary."
Since connecting with DiveHeart, Aken has traveled from Madison to Milwaukee twice for scuba diving sessions. She also went on a diving trip to Florida with DiveHeart last spring. This trip was the first of its kind that the Milwaukee chapter participated in, and was funded through a grant that the nonprofit applied for.
"I would go scuba diving everyday if I could," she says.
___________
The collaboration between DiveHeart and Marquette started with Tina Stoeckmann, professor in the College of Health Sciences and faculty advisor for the Adaptive Abilities Club. Stoeckmann has been assisting with adaptive sports for nearly 15 years.
"I'm able to use my knowledge and skills to help other people participate in opportunities that they normally wouldn't be able to do without help," Stoeckmann says.
Stoeckmann says that several years ago, she would come into class on a Monday and tell students about the different adaptive activities and events she had assisted with that weekend. After a while, her students wanted to get involved.
Many of the students who volunteer with Adaptive Ability Club are studying physical therapy. However, the club is open to students of all majors and Stoeckmann says students come to the club for a variety of reasons.
The Adaptive Abilities Club helps students connect with people with disabilities outside of a medical context or a crisis situation, Stoeckmann says. Students who are studying to be physical therapists can practice transferring skills and assist with equipment at various adaptive sporting events. More importantly, Stoeckmann says, students get to know individuals not as patients, but as people.
"[Adaptive Abilities participants] are not coming to you because they need rehab. They're coming because they want to go water-skiing or scuba diving or snow-shoeing," she says.
Jasmine Ough, a senior in the College of Health Sciences, assists with various activities through Adaptive Abilities, including wheelchair rugby, skiing and rock climbing.
Ough says these experiences have shown her "how joyful and enthusiastic the participants are in accepting [the volunteers'] assistance in activities that are new and sometimes scary."
For Gloria Johnson, the current president of the Adaptive Abilities Club, one of the best parts about volunteering at events is seeing how participants with various disabilities adapt the sports so they're able to participate.
Johnson, a senior in the College of Health Sciences, says via email that, "It's also interesting to see how innovative some of the adaptive equipment is, like at rock climbing — even if someone has weak grip strength or no lower body control, there is equipment and methods of side-climbing that enables them to still get to the top of the wall!"
____________
Despite the success that the club has had in providing students and participants with exposure to adaptive activities, both Stoeckmann and Repka want to expand the organization.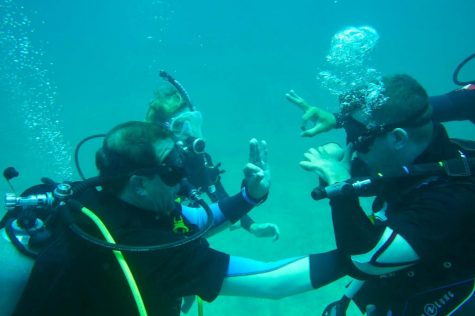 "I would like for us to be able to host more things on campus. Our kids are here, this is a Jesuit institution, cura personalis," Stoeckmann says.
Lack of funding and the inaccessibility of Marquette's facilities are some of the obstacles preventing this from becoming a reality. Stoeckmann says that the Adaptive Abilities Club's request for funding to rent the pool was denied this year. The group applies for funding through Marquette Student Government but has also considered independently fundraising in response to this denial.
"There's still a lot of stereotypes. Still lots of stigma," Stoeckmann says.
"I would like to get individuals with disabilities on Marquette's campus to come out and play in the water and offer them weightlessness," Repka says.
Story continues below advertisement