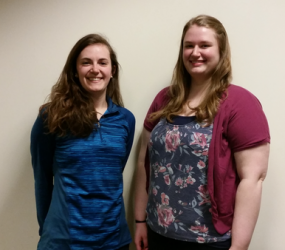 Two first-year physical therapy students used a class project to give 2-year-old Sam Wollenhaupt the ride of his dreams: his very own Batmobile.
It also allowed Sam, who has an undiagnosed disability, to become truly mobile for the first time.
Marquette students Katie Hoffmeister and Becky Voss' month-long course project is now directly changing the life of a member of the Milwaukee community.
"He had the biggest smile on his face," Hoffmeister said.
The idea began when Hoffmeister and Voss attended a conference in which they learned about Go Baby Go, a program at the University of Delaware. Launched in 2006, Go Baby Go creates customized wheelchairs for young children, that are designed to allow children with mobility issues to move and have a full childhood experience. When Hoffmeister and Voss found out they had a biomechanics project to do, they decided to give it a shot.
"I've been doing this class for 10 years and this is the very first time we've done a project like this for a child as an end user," said Andrew Starsky, a clinical assistant professor in the physical therapy department. "A lot of these projects just analyze existing products."
The challenge lay in finding a child to work with.
"(We had to make sure) the child was appropriate for the project and the family was willing to do it with us," Voss said.
The project required the students to tailor the wheelchair, Batman colors included, to Sam as best they could. This included putting in shin blocks, a back support and adding grips to the wheels so Sam could drive on different surfaces. They also discovered an added therapeutic advantage of the modified toy: it was a form of hippotherapy.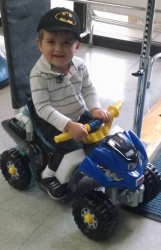 Voss explained that Sam has no trunk control, causing him to struggle with stability to the point that he even struggles to sit up properly. However, the stop and go motion that resulted from Sam's pushing on the added foot switches required him to maintain balance and a proper posture. In hippotherapy, the same goal would be achieved by having a patient ride on a horse.
"The girls and I looked at this project from a biomechanics standpoint, but also from a patient-culture type standpoint, as well," Starsky said. "It's been pretty well-established that kids that are mobile can certainly interact better socially, are stronger, even developmentally better."
While the impact of the project on Sam's life is clear, the students said the experience was impactful for them on a professional level as well. Hoffmeister said she aims to work in pediatrics and learned much from working with Sam.
"It was actually my first time using power tools, ever," Hoffmeister said. "So I learned some of that (too)."
The modified car costs a small fraction of what a high tech wheelchair would cost, a price that is much easier for parents to invest in, even though the children will eventually grow out of them, Voss explained. The car also allows Sam to develop socially, as he is able to move with other children and interact with them more easily.
Starsky expressed his enthusiasm for the future of such projects in the department and has already received two more requests for custom cars from community members. He said the car was helpful for Sam and the project gave Voss and Hoffmeister confidence in their ability to design a device for a patient.