'Birdman' teaches value of modesty in pursuit of prestige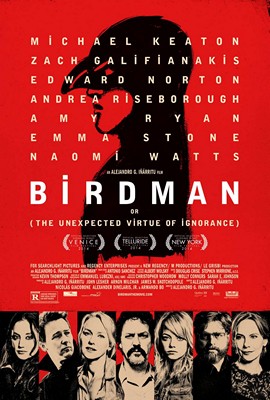 Prestige drives all of us and "Birdman" strongly emphasizes that notion. Nominated for nine Academy Awards, including Best Picture, the film is unlike anything we've ever seen before. Following the life of a washed-up Hollywood actor, "Birdman" artistically teaches the effects that one's self-image can have on the rest of their world.
Michael Keaton plays actor Riggan Thomson, made famous by his role as blockbuster superhero Birdman. Thomson feels irrelevant since the Birdman series ended 20 years earlier, so he creates a Broadway stage production to force himself back in the public spotlight. He contributes as the leading actor, writer, director and co-producer.
Thomson is not like the others. Birdman is more than just a character from his past; he's a voice, a presence that Thomson can't shake out of his head. He even inherited the supernatural powers of Birdman. The opening shot shows Thomson floating cross-legged five feet above the ground. It makes the audience wonder, "Is this guy truly a phenomenon, or is he simply crazy?" The scene sets a theme for the rest of the movie, establishing "Birdman" as a marvelous film in itself and certainly not one to be taken literally on all accounts.
Director Alejandro G. Iñárritu proceeds with the film by placing the audience into the middle of a rehearsal not too long before opening night on Broadway. Upset with the talent of his supporting actor, Thomson uses his "super powers" to knock a stage light loose which falls upon the actor's head, knocking him—and the production—unconscious.
To replace the actor, Thomson and the production crew hire world-renowned and incredibly pompous actor Mike Shiner (Edward Norton). Shiner's presence significantly enhances the quality of the play, but his over-sized ego creates tension, drama and humiliation towards Thomson's dwindling career.
With a divorce lingering in his past, a pregnancy scare with a co-actress (Andrea Riseborough) and a troubled daughter fresh out of rehab (Emma Stone), Thomson fights to keep his life intact in his own head while trying desperately to rejuvenate his public image. As Shiner tells Thomson, "Popularity is the slutty little cousin of prestige." Thomson takes a number of blows to his ego before realizing prestige is what he's truly after, not popularity.
"Birdman" is not about the superhero, but the actor who plays him and his struggle to pull off a successful comeback. Thomson devotes his life to his own public image so much so that he neglects the world around him, especially his family. Thomson deals with personal struggles between himself, his loved ones and the immortal Birdman character.
At a glance, "Birdman" fits in society as an autobiographical piece of Keaton himself. Keaton's undeniable peak as an actor came as Batman, playing the Dark Knight for Tim Burton in 1989 and 1992. "Birdman" consists of subtle references to the films, with the obvious nod in the movie's name. Thomson even mentions the last Birdman blockbuster coming out in 1992, corresponding to Keaton's final appearance as Batman in "Batman Returns," released in the summer of '92.
I only counted one cut edit in "Birdman." A cut edit jumps immediately from one scene to another; it's an edit that seems inevitable and essential to modern film. "Birdman" features the same take for over 100 minutes, something unheard of in the movie industry. Through a series of clever, brilliant transitions, editors show a passing of time by dramatic changes of scenery within the same take.
Cinematographer Emmanuel Lubezki ("Gravity") creates stunning visuals, recreating New York City during the skillful editing transitions. The most beautiful shots of the film come when Thomson flies around the city, high off his own liberation. The overall lighting in "Birdman" perfectly fits Thomson's emotions at the time of the respective scene. The sets are adjusted to make the audience feel like Thomson does: dark, depressed and irrelevant.
The star-studded cast, including Zach Galifianakis, Stone and Naomi Watts, backs up Keaton with an unmatched level of confidence, proving "Birdman" features the best acting unit heading into the 87th Academy Awards. Every character is brought to life by his or her respective actor's portrayal, making for a fantastic, yet extremely dramatic story that keeps us on the edge of our seat for all two hours.
The most prestigious acting appears between Keaton and Stone in a scene depicting an intense father-daughter argument. At the height of Thomson's emotional roller coaster, his daughter lays it on him with a monologue driven purely by fury and impulsive aggression, immediately followed by regret. Stone blows the scene open, one of the strongest highlights of "Birdman." No other piece of the movie sparks such strong emotion as Stone's dramatic blowup.
"Birdman" spotlights the art of theater and prestige. Alongside that, it teaches the audience a lesson of modesty, which viewers learn along with Thomson. It preaches that the lives we're living supersede our own individual egos. Prestige drives every one of us, but we must acknowledge the rewards, such as love, that we unknowingly have on the path of getting there.
On Feb. 22, the cast and crew of "Birdman" will attend the 87th Academy Awards with the potential to win nine Oscars. The film certainly qualifies to win the big one, competing with seven other films for Best Picture. Whether it's Keaton for Best Actor, Lubezki for Best Cinematography or the seven other nominees, expect to see "Birdman" take home at least one of Hollywood's most prestigious awards. Prestige is, after all, the essence of "Birdman."
★★★★
Leave a Comment