Club gives those with physical disabilities chance to be athletes
Eric Fife sees himself as a kind of a test dummy.
The 39-year-old, who lives with a spinal cord injury, serves as a volunteer test subject for adaptive sports activities — such as tennis and lacrosse — designed by physical therapy students to help and study those with physical disabilities.
"I give them a test range of motion so they can see what my abilities are, stuff like that," Fife said. "Basically, it gives the students a little practice on people where it's a little more hands on."
Fife also works with Marquette's Adaptive Abilities Club, which is trying to change the Milwaukee sports scene by implementing a wider variety of activities for people with physical disabilities.
The club partners with Milwaukee organizations including the VA Medical Center, Adaptive Adventures and Independence First. It provides athletics for those who live with physical disabilities.
Students involved in the club go out into the community and actively help people with physical disabilities take part in sports, including downhill skiing, snowboarding, water skiing, paddle boarding, kayaking, rugby, lacrosse, basketball and rock climbing.
"All of (the sports) are adapted for people with (physical) disabilities," said Kristen Seroka, the club's founder and a fifth-year senior studying physical therapy. "It's basically changing (the sport) in any way you can to make it possible for them."
While it only became an official club this past October, Seroka became involved with the Milwaukee adaptive sports community since her freshman year. She first became actively involved because of a professor who was involved with rehabilitation and adaptive sports. Seroka first volunteered with adaptive downhill skiing and progressed from there.
But the club's purpose runs deeper than helping those with physical disabilities play sports.
"Most people who go around campus and see someone with a disability, either look away or aren't sure what to do," Seroka said. "You don't really see what they can do, you see what they can't do. So the idea behind adaptive sports and our entire club is to see the ability behind the disability and how much they really are capable of doing."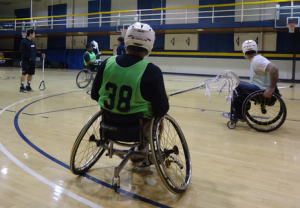 Although the club mainly consists of students in the physical therapy program, it welcomes anyone interested in joining. It started off with Seroka and now there are around 150 volunteers for the program.
One of those volunteers is Kenneth Lee, a physician at the VA Hospital at the Medical College of Wisconsin. Lee first got involved with the Adaptive Abilities Club through an adaptive sports club. He has been an asset to adaptive lacrosse.
"Three veterans decided to get together and form a wheelchair lacrosse team for the community," an expert from keepmovingcare.com said. "This team is made up of veterans and non veterans who use wheelchairs for their mobility."
Lee is one of the founders of the adaptive sports lacrosse team, of which Eric Fife is a member, and his club ended up pairing with the Adaptive Abilities Club. He also played a key role in finding the team's coach: Marquette men's lacrosse head coach Joe Amplo.
"It's the best hour of our week," Amplo said. "This is so much fun, and for (my Marquette Lacrosse players), it's an opportunity to give back and to appreciate the opportunity they have. You see guys who are a little less fortunate, but you also see how much these guys enjoy playing the sport our kids love and take for granted every day."
Lee said he hopes to see the team grow in the future.
"Currently, there are five or six wheelchair lacrosse teams in the country: a couple on the west coast, a couple in the east coast, but we may be one of the first ones in the midwest," Lee said. "We're hoping that it becomes a bigger federation that has people get used to it."
The team aims to participate in the Ocean City lacrosse Classic in August, a Lacrosse tournament in Ocean City, Maryland that features a wheelchair division.
Overall, the goal is to understand the struggles those with physical disabilities face and help them adapt to a better lifestyle.
"Until you get in these chairs and try it yourself, you have no idea what challenges they face as adaptive athletes," Seroka said.
Leave a Comment