Volleyball falls in four sets to No. 3 BYU
One day after coming off a five-set battle to knock off No. 10 University of Southern California Friday, Marquette couldn't replicate that energy Saturday night, falling to No. 3 Brigham Young University 3-1 (23-25, 25-22, 25-20, 25-14).
"(BYU is) really good at doing their strengths for long periods of time," Marquette head coach Ryan Theis said. "Their players have a lot of freedom to make decisions based on what they see and are very good at reading the game."
Marquette had some early success but could not match BYU's experience and vision.
"They became more and more familiar with us as the match went on and again," Theis said. "They're a really veteran group that sees (teams) really well. The more looks they get, the more comfortable they are against you, and that makes it tougher to score."
Marquette took the first set 25-23 and notching their best hitting percentage of the night with 0.382.
The second set started with more of the same Marquette domination. At one point, the Golden Eagles led 16-10, but after three quick errors and a timeout, the Cougars fought back to eliminate the lead and take the set 25-22.
The third set was also back-and-forth, but following two service aces from the Cougars' Heather Gneiting and attack errors from Marquette, BYU won the set 25-20.
"Our kills went down as the match went on because their defense got more and more familiar with attackers," Theis said.
The Cougars had total control in the final set. The Golden Eagles posted their worst hitting percentage at 0.067, having only two more kills than errors. BYU took a 13-7 lead right away in the set.
"In the fourth (set), their offense was rolling, and ours wasn't, so it got too lopsided in that way," Theis said.
The Cougars' Roni Jones-Perry picked Marquette's defense apart with a match-high 23 kills. Junior Allie Barber led Marquette with 16 kills while Anna Haak and Hope Werch each had nine kills. Redshirt senior star Jenna Rosenthal was held to only eight kills and five blocks.
Marquette (6-2) is matched up against Syracuse (2-2) Sunday at 12 p.m. Central time. This will be the final game for the Marquette Invitational.
"BYU is pretty elite in the front and the back row court defensively, but Syracuse (is) much more upfront, so we're going to have to get it past that block," Theis said. "For us, it's an experience to play against really, really good blockers."
Leave a Comment
About the Contributor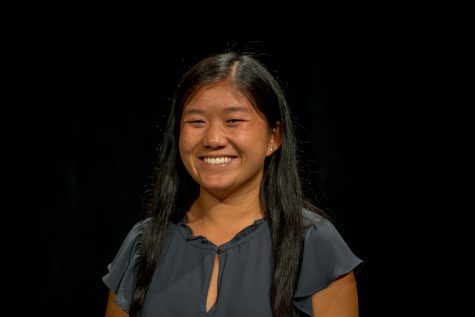 Zoe Comerford, Executive Sports Editor
Zoe Comerford is the Executive Sports Editor for the Marquette Wire. She is a senior from Naperville, Illinois, majoring in Journalism and Digital Media...