Wild Commons, the $108 million residence hall that opened in August, will be renamed The Commons after former university president Robert A. Wild sent a letter to the Board of Trustees requesting that his name be removed from the building, according to a statement released by the university today. The sign identifying the building has also been removed.
The request comes after information revealed in 2011 linking Wild to a clergy abuse case during his time as the Provincial in Chicago in the 1990s resurfaced.
"As a Jesuit, Catholic priest, I am filled with sorrow and abhorrence at any incident of abuse committed by a religious leader," Wild wrote in his letter. He said allegations were made against three members of the Chicago Province of the Society of Jesus during his time as Provincial from 1985 to 1991. He wrote that he regrets the way he handled overseeing those members.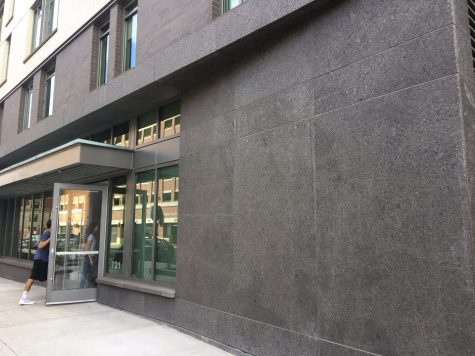 "Looking back, I would have handled certain aspects of those cases rather differently than I did then," He said in the letter.
University President Michael Lovell said in a statement, "I respect Father Wild's decision as laid out in his letter, and the Board unanimously agreed to honor his request."
In 1991, while Wild was head of the Chicago Province, he received a call from Ricardo Palacio, a priest helping lead a spiritual retreat that one of the Chicago provincial's members, Donald McGuire, was also on. Palacio told Wild that McGuire had been traveling alone with a 16-year-old boy and that he was "suspicious of the arrangement," according to a memo prepared by Wild on Feb. 19, 1991.
Wild wrote in the memo that the incident was "at least very imprudent, perhaps much more serious." Wild then issued a set of guidelines for McGuire, communicated via a letter dated Feb. 27, 1991, asking McGuire not to travel on overnight trips with "any boy or girl under the age of 18 and preferably even under the age of 21." Wild also asked McGuire not to interact with the boy he had been traveling with without one of his parents present.
Years later, in Feb. 2009, McGuire was sentenced to 25 years in federal prison, after being defrocked by the Vatican in 2008. In a deposition for that case, Wild said of McGuire, "We didn't have fire, but we had smoke."
Documents revealing Wild's involvement in the case surfaced in 2011. Following the revelations, The Survivors Network of those Abused by Priests held a press conference on campus asking Wild to apologize for his involvement, during that time, Peter Isely, Midwest Director of SNAP said, "we were not treated well (by the university)."
Isely said Wild's failure to turn McGuire over to civil authorities despite knowing that he was dangerous was a failure of moral responsibility. He also said Wild's letter is incomplete. "What he says is he made a mistake," Isely said. "That was not a mistake, that was a top management decision. That's calculated, that's deliberate." Isely also said the apology was unclear.
"It's hard to accept an apology if you don't know who he's apologizing to," he said. "And he doesn't say what he did."
Isely said for Wild's apology to be taken seriously by victims, he would need to call on other Jesuit leaders to publish the names of those accused of sexual abuse.
The full text of Wild's letter and Lovell's response can be found at this link.
This story is developing. It was updated Sept. 4 at 5:36 p.m.