In Case You Missed It
The opinions desk is committed to remaining up to date on Marquette news in order to inform our thoughts on the topics. In Case You Missed It, here are our views on the semester's hot issues.

National Marquette Day
This year's National Marquette Day was arguably the best one any current student has experienced. The unseasonably warm weather gave the festivities a block party vibe, with hundreds of students taking to the streets to celebrate. To top it off, Marquette scored a convincing win over Xavier.
However, this also led to issues. Students left behind smashed bottles in the streets, tilted over trash cans and vomit in the bushes. People booed and flipped off Marquette University Police Department, who weren't even acting on the literally hundreds of open container violations in front of them.
Our neighborhood, where other adults and families — not just students — live and work, was disrespected.
A few days later, Vice President for Student Affairs Xavier Cole, Athletic Director Bill Scholl and Student Government President Adam Kouhel sent an email to the student body addressing "profane chants" from the student section at the game.
On a day that aims to celebrate Marquette, its tradition and its values, students could have been more responsible in how we represented ourselves and our school.
Tobacco-free campus policy
This February, Marquette University Student Government unanimously approved a tobacco-free campus policy that has been in the works the past few years.
Some feel the policy insults and oversteps, as it bans students, faculty, staff, contractors, vendors and visitors from using any tobacco product on campus, in its buildings, at outdoor athletic events and in university vehicles.
Furthermore, the policy does not clarify how the legislation will be enforced, and any real enforcement at all seems impractical. Will Marquette University Police Department issue citations to students and employees on a smoke break? Will faculty and staff members be in jeopardy of losing their jobs if caught smoking?
The policy simply makes smoking less convenient, relocating individuals on smoke breaks from outside campus buildings to city sidewalks.
While efforts to educate Marquette community members of the harmful effects of smoking would be both reasonable and more practical, a ban on all tobacco doesn't necessarily promise a decrease in tobacco use or promote a healthier campus for all.
Ben Shapiro talk spurs controversy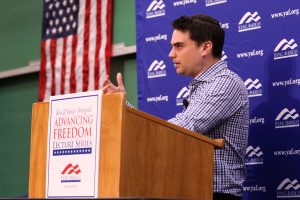 It was not without controversy that campus welcomed conservative lawyer, editor and author Ben Shapiro to speak to students and other community members. The February event was hosted by the Marquette Young Americans for Freedom.
About a week before Shapiro's visit, it was reported that a Marquette staff member commented on Facebook she would attempt to prevent students from attending by registering for a spot online and then not showing up.
Marquette Empowerment, a gender equality student organization, addressed a letter to University President Michael Lovell arguing Shapiro should not be allowed to speak on campus because he "has built a career around perpetuating racism and xenophobia." His presence would undermine Marquette values and Black History Month, the group said.
Despite this, the event went as planned. Shapiro spoke about the idea of victimhood in American society, then took audience questions.
After the event, many had opinions to share. On behalf of YAF, one student argued all of campus grows in "intellectual diversity" when speakers like Shapiro come. University Provost Dan Myers pleaded that students think critically about some claims Shapiro made, and another student called the event "legitimization of hate as political discourse."
'Wild Hall,' 'Grocery Challenge' announced at January presidential address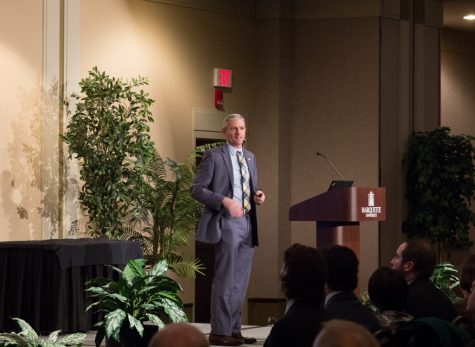 At his third presidential address, University President Michael Lovell had two major announcements.
The highlight of the address was the news that the residence hall being built on 17th and Wells streets will be named after former university president the Rev. Robert Wild. Wild has been a major part of Marquette for years, serving as university president from 1996 to 2011 and fall 2013 to July 2014, as well as bringing in millions of dollars for student scholarships and development projects at Marquette.
Lovell praised Wild for all of his work, calling him a "beloved figure" at Marquette, and thanked Ray and Kay Eckstein for their $10 million donation to what will likely be dubbed Wild Hall.
Addressing the issue of bringing a fresh food source to campus, Lovell announced the Grocery Challenge initiative. He expressed hopefulness in the new program, citing "pilot programs" aimed at finding new solutions.
Unfortunately, this announcement left students asking the same questions we have had for years and offered no concrete answers. Our campus neighborhood has not had a grocery store for 25 years, and students, staff members and the greater community are all eager to find a solution to this "challenge."
Leave a Comment