MUBB's new chaplain adds calm presence to youthful team
Fr. Laurance took over before this season for iconic Fr. Kelly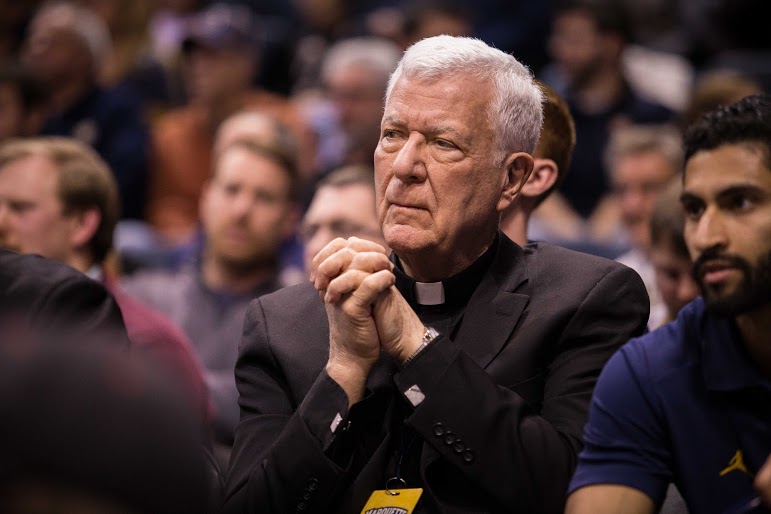 The Rev. John Laurance sits upright in his chair at the end of the bench, making sure his black shoes rest just behind the sideline. At the media timeout, he stands up among the huddle of players and coaches – a calm mind in a moment of commotion.
Maintaining serenity is one of the most important aspects of being the Marquette men's basketball chaplain. The team relies on Laurance as a voice of reason and a pastoral presence for prayer and support. In his first season as chaplain, he's still learning how to provide all of these elements to the team.
"Whenever you begin something, there's always kind of an initiation period," Laurance said. "The first year you're doing anything, you're kind of a freshman, aren't you? People have to get to know you, so you can't come in and walk around like you own the place. I'm kind of feeling my way into the job and experiencing it."
The 77-year-old theology professor took the reigns as chaplain from the iconic Rev. William Kelly, who retired from the job after 2014-'15 season. Kelly, 92 next month, served as chaplain for more than 30 years.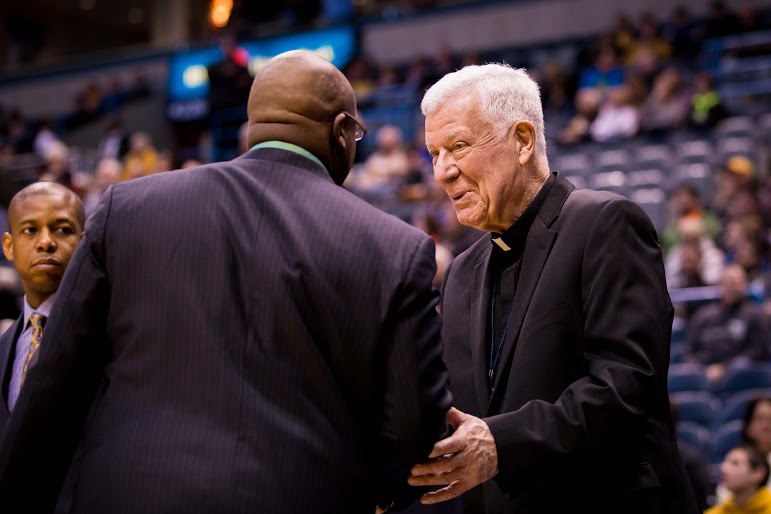 "I told him that they asked me to do this and he was very happy about it," Laurance said. "He was happy not just that I was doing it, but that someone was carrying on the tradition."
Laurance said he and Kelly have been frequent partners on the golf course for more than 10 years. Kelly even tried to recruit him to Marquette as a Jesuit in the early 1980s while he studied for his pastoral doctorate at Notre Dame. Their friendship gave Laurance some idea of what the job entailed and how to handle certain situations.
"I'm not an Irishman, and I don't have that leprechaunish quality," Laurance joked about Kelly. "But you are what you are, and I do have a great love for basketball."
His affection for basketball started his freshman year at Marquette in 1956. He lived in Monitor Hall, an old residence hall on campus, where the basketball team also resided. After graduating, he taught at Marquette University High School, where he taught Al McGuire's son Allie and would later let a young Rick Majerus into the gym at night to shoot around. Laurance went on to earn his Ph.D. at Notre Dame and taught at Creighton before returning to Marquette in 1992.
"There's seven in our family, and six of us went to Marquette," Laurance said. "I've been going to games ever since I got here. I'm not trying to say that qualifies me for this job, but Marquette basketball is in my blood in a way."
Now a part of the team, Laurance combines his passion for basketball with his love for the Church. He uses his focuses of liturgy and sacraments to transmit rituals for the team, including prayers before and after games. During a recent road trip to New York, Laurance held Sunday Mass in a hotel conference room – he packed his vestments and accouterments in his travel bag and set up a makeshift altar. The mass was open to coaches, players and fans.
"He makes himself available, and he's very involved," said Travis Diener, Director of Player Personnel and Marquette guard from 2002-'05. "If guys want to go bounce things off of him, then they have the freedom to do that. For Father, that's very important. He's not going to try to overstep any boundaries, but he's there, and he has a strong presence."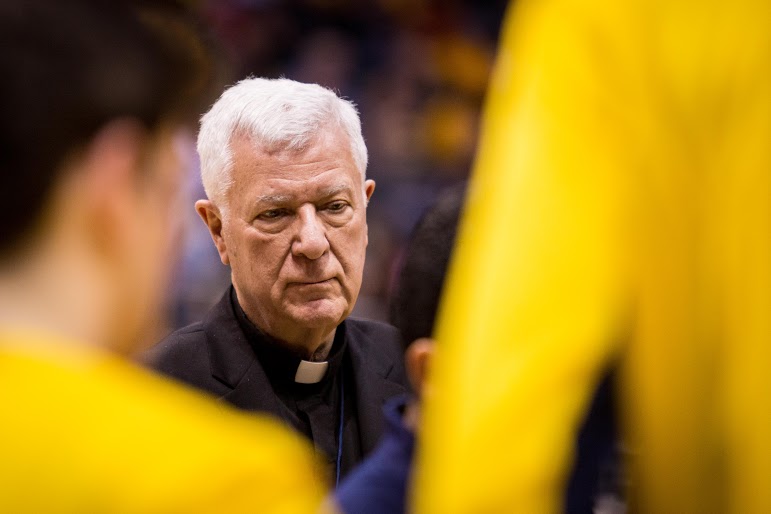 While in New York, Laurance met with the chaplain from St. John's, who gave him some pointers. The other chaplains – from Creighton, Seton Hall and Villanova – have given him an outpouring of support as well. They, like Laurance, represent two of the biggest focal points of their respective universities: faith and basketball.
"The interest in basketball here that goes with the students, alumni and backers is so thick you can cut it with a knife," Laurance said. "To have a Jesuit priest as part of the face of that … really represents the identity of Marquette as Catholic and Jesuit. It's not like you're trying to hang onto the past, but it's kind of a depth to this place that binds people together."
As Laurance continues to build on his experiences and progress into retirement from being a full-time professor, he takes solace in the fact that he feels welcomed by the whole athletic department and appreciates the friendliness of the coaches and players. Still, Laurance understands that year one is an adjustment period and that he can further build upon the trust he has with the team.
He recalled an incident last fall when he was cleaning out his room at the old Jesuit Residence, preparing to move to the new building. He found an old Marquette letterman jacket with a note from the Rev. Robert Wild that said something along the lines of: "If you can use this, it's yours."
"I thought: 'How can I wear a letter jacket? I've never earned a letter,'" Laurance said. "I mentioned it to the athletic director (Bill Scholl), and he says to me, "'Father, you're going to earn it.'"