BEG: Lessons not learned from Till
Sixty-three years ago, Emmett Till was lynched and murdered. A pair of white men brutally and violently killed a 14-year-old boy to the point where he was no longer identifiable. This was all because Till allegedly verbally attacked a white woman.
This past month, Till's case was reopened "based upon the discovery of new information," according to the Justice Department. Carolyn Bryant Donham, the woman who's allegations against Till led to his murder, admitted she lied in her accounts of what occurred August of 1955.
Now, decades later, she said, "Nothing that boy did could ever justify what happened to him."
The fact that a 14-year-old African-American was murdered due to the story of one white woman, whose information is knowingly and purposefully false, showcases the power a white person's voice has over a black person's in this society.
Till's story is a point of shame in history books. Today, it's still just reality. Recently, meme culture has tackled the various real-life situations where a white person has called the authorities on black people for innocent, everyday activities. Although there is hilarity surrounding these memes — including "BBQ Becky" and "Permit Patty" — there is more than just a funny image at hand.
By white people choosing to believe and act upon the degrading stereotypes, it shows they feel threatened by black people participating in noncriminal behavior. These white-people-turned-memes believe their words will hold stronger authority and urgency than their black counterparts. They feel comfortable calling the police when a child is holding a lemonade stand or there is a barbecue occurring in the park. These types of white people know their accusations are promptly believed solely because of the color of their skin.
Black people are not granted the same privilege or comfort when around police. Their words cannot even be relied on in real, dangerous situations. The authorities are not at their disposal, ready to believe their stories.
On the other hand, the real-life "Permit Pattys" and "BBQ Beckys" know they are promptly understood and face few to no consequences. None of the women who have been in the news for these types of situations have to deal with legal repercussions for their false accusations despite activists begging for them to be held accountable. When no consequences are given for this behavior, white people will continue to believe their word has stronger authority than any black persons's, just as Donham did.
In 2014, Ronald Ritchie, a white man, called the Ohio police claiming that John Crawford III, a black man, was walking around Walmart pointing a rifle at children. This white man had, in fact, lied on this call. The truth was this black man in question had a BB gun, which he intended to buy in the store. Either way, the cops shot and killed a black man based off the lies of a white man.
Even if society does not take this specific story into account, the mere idea that black people cannot carry out simple activities in their day-to-day lives that white people take part in is truly appalling. In 2018, black people are not trusted as much as their white counterparts.
Emmett Till is one of the countless African-Americans who have had to face unreasonable consequences for their innocent actions.
The power these white people perform is not just wrong, but truly dangerous. It is increasing the problem of racism and racial profiling in this country.
Black people's relationship with law enforcement has never been great, and these incidents are in no way easing the tension between both groups. Americans must learn to let them simply live their lives because there is no harm in a couple of black people sitting in a Starbucks.
Leave a Comment
About the Contributor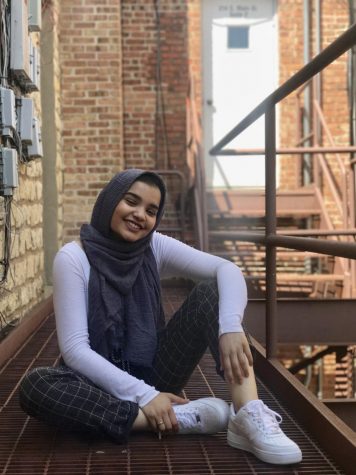 Aminah Beg
Aminah Beg is the assistant opinions editor for the Marquette Wire. She is a sophomore from Naperville, Illinois who is majoring in Public Relations and...