Early Louisville run too much for Marquette in NCAA Tournament Second Round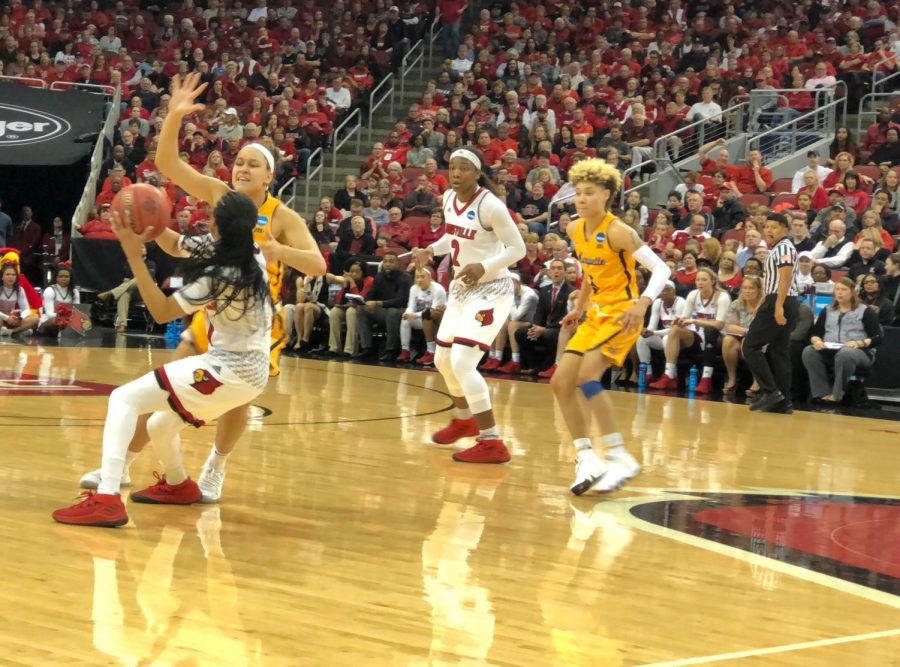 Marquette's first Sweet 16 appearance will have to wait for at least one more year.
The Golden Eagles' season came to an abrupt close Sunday with an 90-72 defeat at the hands of top-seeded Louisville in the second round of the NCAA Tournament.
Marquette had a momentary glimpse of hope after junior guard Allazia Blockton scored the team's first five points to give Marquette a 5-4 lead early in the first quarter.
Then, any sense of hope dissolved into a sea of red at the KFC Yum! Center, and reality set in the first four minutes. A 24-5 Louisville run gave the Cardinals a 28-10 lead before the end of the first quarter.
"They really didn't do anything that we didn't see on the scouting report," junior guard Natisha Hiedeman said. "We just lacked focus in the first half, which led us to a bad start in the game."
"We came out a little timid," Blockton said. "Against Louisville, a top team like that, you can't come out flat."
Allazia Blockton made the game respectable again in the third quarter with 17 points on 7-of-7 shooting in the quarter. Louisville meanwhile was limited to 47.1 percent shooting in the third quarter.
"We knew going into the game that they can score with the best of them, and Blockton just absolutely put on a show tonight," Louisville head coach Jeff Walz said. "We really didn't have an answer for her. We tried to double her. We tried to do whatever we could. But she played great."
Louisville could not replicate its 1.444 points per possession in the second half but did enough to withstand the late Marquette run.
Blockton finished with a game-high 34 points and moved up to third on the program's all-time scoring list. All but 10 of her points came in the second half.
"I had a lot of open shots in the first half (but was) just wasn't knocking them down," Blockton said. "In the second half I just came out and just was being aggressive."
No other Marquette player had more than 11 points. After scoring a career-high 32 points against Dayton, Natisha Hiedeman could only muster nine points against the Cardinals.
"Shots just weren't going in today," Hiedeman said. "They have a great defensive team, and they were just taking it away."
Marquette thrived all season on forcing turnovers and being in "deny mode," but that didn't work against an even quicker Louisville squad. The Cardinals dominated the fastbreak, grabbing an 11-2 scoring advantage in transition in the first half.
"They got rebounds on missed shots and then were able to start their break faster," Marquette head coach Carolyn Kieger said. "When they're able to get rebounds and long outlets, then that's when you can run."
The Cardinals finished with a 21-6 advantage in fastbreak points.
"They were scoring at such a high rate that we couldn't get our fastbreak going because they made shots every time," Kieger said. "I would say that was the advantage there."
Louisville forward Myisha Hines-Allen led the Cardinals with 24 points on 12-for-16 shooting against one of the coaches that recruited her.
Her 24 points and 13 rebounds marked her 45th career double-double. The senior hit her first 10 shots. She is expected to be selected in the WNBA Draft next month.
"Just some of the rebounds that she went up and got, it's pretty darn impressive how strong she plays," Walz said. "Instead of just sticking her hip out and calling for a little wrap-around pass, she actually got toes to the ball, and … she was demanding it.
The Cardinals had a 60-36 advantage in paint scoring, marking the second time in the last three games that the Golden Eagles have been out-muscled in paint scoring.
"When you allow a team to have 60 points in the paint, it's going to be hard to win," Kieger said. "Our gameplan was to change up defenses and keep them out of the paint, and obviously we didn't execute very well."
Marquette's second-round appearance was the fifth in program history and first in the Carolyn Kieger era. It was also Marquette's first NCAA Tournament bid since 2011.
The only graduating senior is forward Shantelle Valentine, who averaged seven minutes per game this season.  All five starters are expected to return next season.
"Even from last year to this year … we've grown up a lot," Kieger said. "So you give us another summer, another offseason to improve and get better, and I'm really excited to see what this group can do."