PREVIEW: Durr, Hines-Allen give Golden Eagles tough task in second-round matchup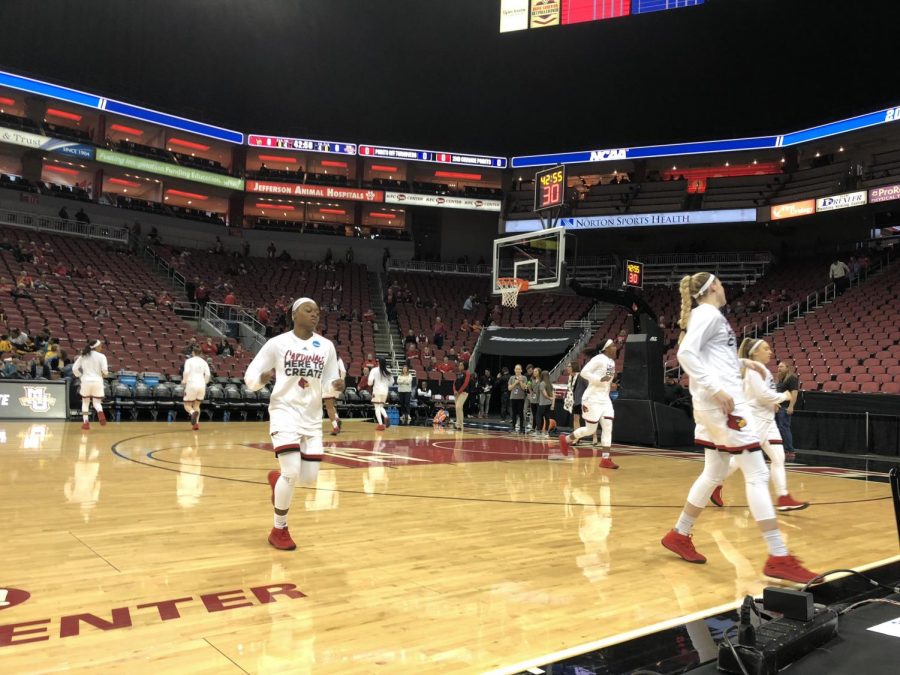 Marquette has advanced to the second round of the NCAA Tournament with a push-the-pace offense and "deny mode" defense.
"(Marquette is) very fast paced," Louisville junior Sam Fuehring said. "We have to run the floor with them."
The Cardinals should be more than up to the task; they are ranked third in the latest AP poll and only lost two games this season. One of those games was to No. 1 UConn, a team that has not lost a regular season contest since Nov. 17, 2014.
Marquette has played several top teams closely using a rapid tempo, but Louisville is just as capable of running the floor. In the ACC Championship, Louisville had 68 offensive possessions in the ACC Championship against Notre Dame and 67 possessions in the ACC Semfinals against North Carolina State.
Many Marquette players believe this could benefit the Golden Eagles, though.
"We like to push the pace too, and they like to push the pace," junior Allazia Blockton said. "We're a fast team, so it plays right into our hands, so we're excited for it."
"The faster the pace, the better for us," fellow junior Natisha Hiedeman said. "That's been our game plan since day one, and if the tempo is in our hands, I think we're going to come out with a good win hopefully."
Even if Marquette can score in transition against the quick Cardinals, there will be plenty of issues guarding Louisville in half-court sets.
"We're used to a lot of motion offenses in the BIG EAST, and Louisville is a set-oriented team," head coach Carolyn Kieger said. "We're going to have to really make sure our communication is at an all-time high level and really talk through player tendencies and personnel."
Louisville junior guard Asia Durr and senior forward Myisha Hines-Allen could be especially problematic for the Golden Eagles defensively. Durr, who has averaged 18.5 points per game and hits 41.8 percent of threes, was recently named a finalist for the Citizen Naismith Player of the Year.
"We're going to try different stuff, throw different people at her and we've got to be keyed in on her all game long," Kieger said. "Hopefully she has an off night."
Even when she's having an off night, her ability to distribute the ball can give teams fits. Against Boise State, the senior only scored nine points on 4-of-14 shooting. However, she also had three assists, three rebounds, two steals and made countless little plays to suffocate Boise State's offense.
"She does so many things for them," Kieger said. "She contributes not only scoring-wise but just her energy. She gets the team going."
When Kieger was an assistant at the University of Miami (FL), she tried to recruit Hines-Allen. While on the recruiting trail, Kieger saw how dangerous she could be.
"Her rebounding presence is phenomenal, so we're going to have to do a great job of keeping her off the glass," Kieger said. "She does so many great things for that team, and the way she passes, as well. She's a nightmare matchup, I think, for any team in the country."
If Durr and Hines-Allen are not on top of their game, bench players like Kylee Shook or Dana Evans are capable of stepping up off the bench. Shook chipped in 14 points in the Cardinals' 74-42 win over Boise State in the first round. Ten Louisville players have averaged at least 10 minutes per game; Marquette has seven.
Louisville is still wary of an upset, however.
"Being in the NCAA Tournament, you've got to expect that everyone is good," Fuehring said. "You can't take anyone lightly because it's March Madness."
"When we sit down and watch film, it's easy to see that they have a gameplan," Louisville head coach Jeff Walz said. "There's no question they're going to be prepared for us. I'm expecting a great basketball game."
And Marquette is embracing the opportunity to play the top-seeded Cardinals at their home venue.
"Obviously Louisville is a great team that we're going to have to play," Kieger said. "But our players and our program love these moments, and we love playing great matchups and great, storied programs."