STEPPE: Playing Howard, Rowsey separately may solve defensive woes
Hang on for a minute...we're trying to find some more stories you might like.
Villanova's Jalen Brunson, LSU's Tremont Waters, and Providence's Kyron Cartwright are among a list of guards to terrorize Marquette's defense this year. At least one opposing guard has scored 15-plus points in 19 of Marquette's 22 games.
This issue has greatly hampered Marquette's postseason aspirations, especially in the last two weeks. Four consecutive losses — No. 9 Xavier, No. 1 Villanova, Butler and Providence — have dragged the Golden Eagles from comfortably inside the NCAA Tournament bubble to just about off of it.
Most teams would be crazy to consider relegating one of their conference's leading scorers to the bench, but Marquette is not most teams. Such relegation could be the solution to Marquette's recent collapse.
When senior Andrew Rowsey and sophomore Markus Howard are on the floor simultaneously, Marquette's already-porous defense has paid the price. The sharpshooting duo combined to play 35 first half minutes against Xavier and Marquette allowed 1.342 points per possession as a result. But with Howard and Rowsey combining to play only 27 second half minutes in the Jan. 24 loss, Marquette limited the Musketeers to a much more reasonable 1.027 points per possession.
Howard and Rowsey's explosive scoring abilities have warranted their extensive playing time so far, but playing them together has limits their strengths and exacerbates their weaknesses. This has been particularly evident in some of Marquette's recent blowout losses. Xavier outscored Marquette, 63-41, when Howard and Rowsey were both on the floor. When at least one player was on the bench, Marquette had a 29-23 scoring edge. A week later, Butler had a 67-31 scoring advantage with Rowsey and Howard in, as opposed to a 41-25 Marquette advantage with one on the bench.
Both players are shorter than six feet and have limited wingspan. This invites opposing guards to drive and force the Golden Eagles to allow a good look or risk foul trouble for one of their potent scorers.
Marquette's lack of depth down low makes this problem especially dire. Against bigger, more physical defenders like Butler's Tyler Wideman or Seton Hall's Angel Delgado, big men Matt Heldt, Harry Froling and Theo John already have a hard enough time boxing out their man, let alone running towards the rebound.
"(Guard rebounding) really helps out our big guys," head coach Steve Wojciechowski said after Marquette's win over then-ranked Seton Hall. "It's very difficult to both block out Delgado and then go get it."
Marquette's "twin terrors" are relatively poor rebounders. Howard and Rowsey beat their defenders for offensive rebounds 1.0 and 1.2 percent of the time respectively. Meanwhile, the biggest beneficiary of fewer minutes for Rowsey is freshman Greg Elliott, who out-maneuvers his defender almost six percent of the time. Sacrificing scoring for rebounding might be a prudent switch for the Golden Eagles.
Staggering minutes between Howard and Rowsey would inevitably lead to less offensive firepower on the court, but considering the two guards' high shot volume (62.7 percent of Marquette's shots), it could also open up the offense for others.
One such player is sophomore wing Sam Hauser, who ranks among the nation's top 50 for effective field goal percentage, a shooting stat factoring the increased value of 3-pointers. The only BIG EAST player with a higher effective field goal percentage is Providence's Jalen Lindsey, according to college basketball analytics site KenPom.
"Hauser doesn't get talked a lot about," Seton Hall head coach Kevin Willard said last month. "He really complements (Howard and Rowsey) extremely well. He moves without the ball, you help off him a little bit and those two guys find him."
Yet the Golden Eagles have struggled to find him lately. Less than a fifth of their possessions end with the ball in Hauser's hands. 
It's clear that Marquette isn't going to be a good defensive team this season. However, alternating Howard and Rowsey could alleviate the team's woes on that end of the floor enough for the offense to take over. Without a change, Marquette will find it difficult to make it to the postseason.

About the Writer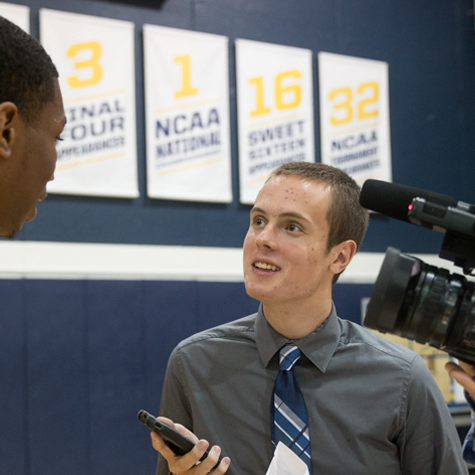 John Steppe, Executive Sports Editor
John Steppe is the executive sports editor for the Marquette Wire. He is a junior majoring in journalism and double-minoring in digital media and Spanish....