With the hopes of making someone's Christmas season a little merrier, Marquette's three resident a cappella groups got into the spirit of giving this holiday season. All of their proceeds from their holiday concert, "Hope for the Holidays," which took place this past weekend, were donated to Froedtert Cancer Research Center, to spread some holiday cheer to cancer patients and their families.
The all-female group Meladies participated in "Hope for the Holidays." They sang "Have Yourself a Merry Little Christmas," "Rocking Around the Christmas Tree" and "Walking in a Winter Wonderland," as well as a fourth number, "O Holy Night."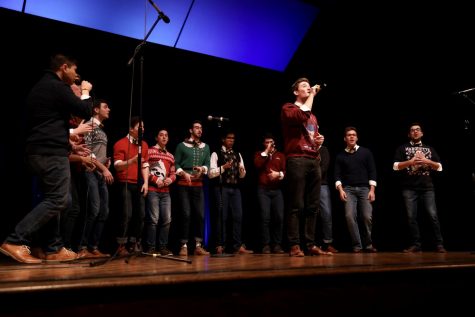 The Naturals, led by President Michael Nicholas, a senior in the College of Communication, sang "The Christmas Song," "The Most Wonderful Time of the Year" and "Christmas Baby Please Come Home."
The completely male group has been harmonizing for 15 years and this semester, the group consists of 16 members ranging across all grade levels. Danny Pankow, a sophomore in the College of Business, has been part of the group since freshman year. The group gets along well and has a sense of cohesiveness.
"(It's) kind of like a fraternity," Pankow said. "We're all really close."
Despite these bonds, they do get competitive. The process for the opportunity to sing a solo in a performance consists of auditioning within the group and seeing which voice is the best fit for the piece. For this particular holiday showcase, the Christmas album by the famous a cappella group Pentatonix was one of the Natural's main influence.
"We typically use Pentatonix songs as inspiration for blending and arrangement," Pankow said.
The coed group, Gold n' Blues, seems to be particularly close as well. The group was founded in 2008 and has since grown, typically consisting of 13-18 members, but varying a bit every semester. Madeline Goode, a senior in the College of Nursing, joined her freshman year. Goode has been their president for the past year and a half.  
Goode said that everyone is "really good friends that act as an on-campus family."
Even though they get along, Goode said that they make it a point to work hard.
"We all work really hard together to produce good music and perform well, but we all really enjoy spending time together and serving as a support system for each other," Goode said. "And I think that dynamic of friendship comes across in our music,"
For this year's Christmas show the group sang "Oh Holy Night," "Deck the Halls" and "That's Christmas to Me" by Pentatonix. Lisa Durrant, a senior in the College of Nursing and a member of the Gold n' Blues since freshman year, said that the arrangement was the same to the Pentatonix song "That's Christmas to Me."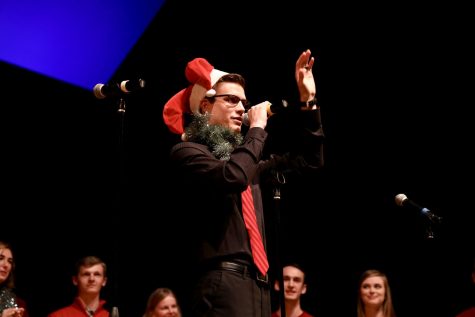 "We had each voice part do one of the voices in Pentatonix and we split the girls into two voice parts- soprano and alto- and the boys into three parts -tenor, baritone and bass," Durrant said. Kate Ruffino, a sophomore in the College of Health Sciences, said that she thought the performance went well and she was happy to use her vocal gifts for a good cause.
"Our group tends to get very excited to perform our setlist during concerts, and we are thrilled to show our friends and families all the work we have done," Ruffino said. "(We have) so much fun in rehearsals, but also take them seriously so we can have the best performances possible."