In this story, we give voice to a student who says she was sexually assaulted by another student. We have changed the victim's name to respect her privacy. 
Jamie began her Friday night in her dorm room watching TV and playing drinking games with friends. A few hours later, one of the boys in her room would rape her.
Jamie's situation isn't unique. About 85 to 90 percent of sexual assaults reported by college women are perpetrated by someone known to the victim, according to the National Institute of Justice. Jamie also falls into the 80 percent of females ages 18-24 that don't report their assault to law enforcement, according to the Rape, Abuse & Incest National Network.
Katy Adler, a university victim advocate, said during her time at Marquette, there have been few cases where a stranger was the perpetrator of a sexual assault.
"It is my perception that the survivors who were assaulted by strangers are the ones that are most likely to report," Adler said. "Of course then it's often difficult to get a clear picture … You don't know who isn't reporting," Adler said of the situational demographics surrounding sexual assault on campus.
Over text message, shortly after the incident, the perpetrator acknowledged he had heard Jamie say no and not consent multiple times. 
Jamie said many of the mutual friends her and the perpetrator shared, feared that if she reported the incident, it would worsen his depression that had developed.
Despite her friends knowing the perpetrator admitted to sexually assaulting her, they forced her to apologize to him, Jamie said. They, "Didn't want to be put in an awkward social position," she said. 
"Nobody wants to be known as the girl who was assaulted and ruined the guys life," Jamie said.
Jamie said she continued to feel bullied by her former friends, to the point that she didn't feel safe in her dorm room. She also said it felt like she had lost every friend she had made in college so far. Under the recommendation of her Resident Assistant, Jamie eventually moved dorms. 
An RA, who will remain anonymous and is not affiliated with the situation, said she saw a few groups of girls pressure their friends to not report a sexual assault during her tenure as an RA. 
"These young girls are just getting comfortable being in college; friendships aren't set in stone yet," The RA said. "Their new acquaintances don't want the reporting to make social situations awkward."
The RA said she would hear from residents that many wouldn't report their assault for fear of not getting invited to parties or other events.
"I heard one resident who had been assaulted describe reporting as a 'party foul,'" the RA said. 
Meghan Stroshine, an associate professor in the social and cultural sciences department, focuses her research on domestic violence, women and crime. She said that specific to reporting on college campuses, she believes there is confusion as to where to report.
"I didn't think I could still tell the school because months had gone by, but I did tell my (resident assistant)," Jamie said. 
Stroshine said the process should be clearer. She suggested having information such as who mandatory reporters are and anonymity policies presented to incoming students immediately.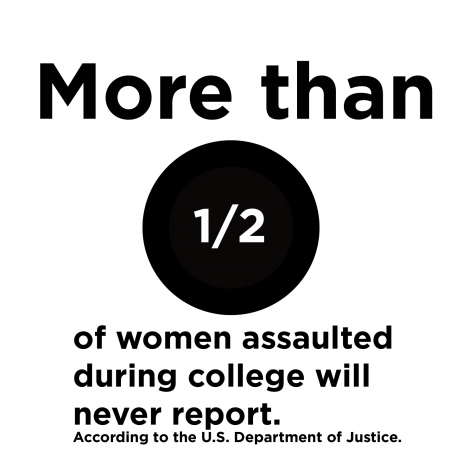 "These young women don't understand the reporting process. It is scary and confusing," Stroshine said. "Maybe they don't want to have a case go to the police and fear that is what will happen if they tell an official. They don't know who are mandatory reporters and don't want information to go public."
This was the case for Jamie. She didn't know who she could tell.
"I never officially reported it, and I don't know if it's too late or if I even want to," Jamie said. "Sometimes I regret it, other times I'm thankful I didn't say something … I've found my own ways to move on and recover."