Chicken is a protein staple, but it's also a Marquette staple that often gets over looked. Whether students are making their way to the annex, snagging mac and nugs before a game or enjoying chicken parmesan, chicken is a food force on campus.
I tried the most popular chickens from each dining hall, evaluated each with as much thought and precision as I could, and provided a description and rating based on a ten-point scale. Each cut of chicken was eaten without any alterations.
Cobeen: Grilled chicken
Cobeen's grilled chicken tasted slightly charred. The meat was shredded on the inside, and not juicy at all. There was not a lot of flavor, but I still liked it. I would order it again, although probably shredded up with barbecue sauce on a bun instead of by itself.
Score: 5.5
Cobeen: Nuggets
I hit up Cobeen on mac & cheese and chicken nugget day and decided that I may as well try another kind of chicken from the dinning hall. Typically, when macaroni and cheese and chicken nuggets are offered I skip out on the chicken and go for extra mac and cheese. But as far as chicken nuggets go, these were pretty good. They were not too soggy and not too crunchy. Very comparable to the frozen Tyson chicken nuggets you can buy in grocery stores.
Score: 5
Marquette Place: Chicken tenders
These were very good. After the first bite of my first tender, the breading separated easily and broke off from the meat, but I did not find that to happen with the other two tenders. My only real complaint is that the meal swipe only allows three tenders, which is not a lot, if someone is hungry. There were fries too, but I even found myself wishing for a few more of those.
Score: 7
McCormick: Chicken strips
First of all, I just learned that you can order chicken strips at McCormick's grill. It wasn't listed anywhere I could see by the grill, but I asked and they fried some up for me. My first impression of these chicken strips was that they were vaguely comparable to fast food chicken. I was getting a McDonald's or Wendy's vibe. They also gave me that slight feeling of greasy regret in my stomach that sometimes comes after eating fast food.
They were crumbly and crispy on the outside, and about half chicken, half breading. I personally liked it, but as far as nutrition value goes one should order something else. Like Marquette Place, I only got three pieces of chicken, but McCormick is an anytime meal swipe, so I did not need to worry about going hungry.
Score: 6
Annex: Wings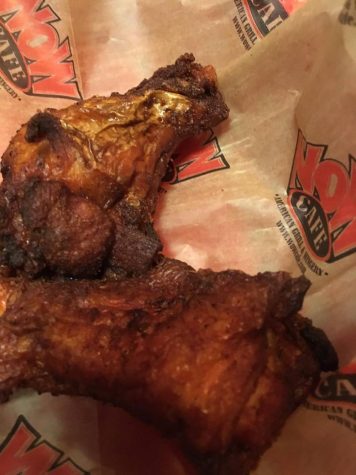 The wings were a little burnt and crispy on the outside. I really liked that, because I am a big fan of slightly-charred meat, but I know not everyone is. They definitely had a strong savory flavor with crispy breading on the outside, and juicy meat on the inside. In general, I am usually not a fan of meat on a bone, but these were exceptional.
Score: 8
Straz: Grilled chicken breast
Straz's grilled chicken breast was very small, but is the correct portion size for a healthy diet. The meat was dense, comparable in texture to a pork chop. It was also dry. By itself, it was certainly nothing spectacular. Since I had absolutely no seasoning or sauce with it, after tasting it I cut the remainder up and ate it in my salad.
Score: 5.5
Mashuda: Chicken tenders
These were solid chicken tenders. I would have been happy with a couple more. They were not above and beyond any of the others; they were crispy, and there was a good ratio of meat to breading.
Score: 7
Schroeder: Fried chicken breast
I ate the fried chicken breast that comes on the chicken parmesan by itself, so I could fairly evaluate the chicken itself. Schroeder's chicken — even without the added noodles and sauce or salad — is the superior form of chicken at Marquette. It was very crispy on the outside, while the meat on the inside was simultaneously juicy and broke apart easily. The taste was simultaneously savory and sweet.
Score: 9.5
Photos by Kelli Arseneau
Story continues below advertisement