Prpa assists on all four goals as men's soccer hangs on to beat Creighton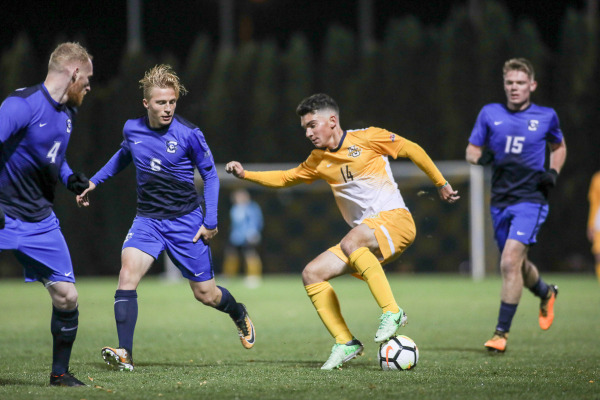 Hang on for a minute...we're trying to find some more stories you might like.
A once-unthinkable goal — a BIG EAST tournament appearance — is now within arm's length after Luka Prpa tied the school record with four assists in Marquette's 4-3 victory over Creighton Wednesday night.
Like previous opponents, Creighton focused on Prpa, but the Bluejays could not contain the reigning BIG EAST Freshman of the Year recipient.
"Just because (Prpa) hasn't been piling on the stats like last year doesn't mean he hasn't been productive," Marquette head coach Louis Bennett said. "He's had a lot of attention all season and he has taken it like an experienced player. Without Luka Prpa, we would be a completely different team."
In spite of the dominating performance by Prpa, Marquette almost blew a three-goal lead. The Bluejays got two late goals including one in the final minute of action.
Heading into the game, Marquette was in last place in the conference in goals scored with 12, but tonight, the offense awoke and came out early.
Connor Alba got Marquette on the board early in the fifth minute. Luka Prpa served in a ball to the foot of Brody Kraussel, who waited a split second and fed it to a sprinting Alba. The sophomore forward took a touch and struck it into the left corner of the net.
Twelve minutes later, Brody Kraussel drew a foul on the right-hand side, just outside of the box. Prpa served the free kick to freshman defender Manuel Cukaj, who headed it home to make it 2-0.
Grant Owens scored Marquette's third goal of the first half on a deflected cross from Prpa. He came sprinting in and hit a screamer that went into the top left corner. Marquette scored its fourth goal in an up-tempo second half via a Luka Prpa corner kick and Ruben Sanchez deflection.
"We had our game plan, and for the most part, we did it to a tee," Prpa said. "Everybody was in sync, and the offense was flowing."
The Jays scored via a Noah Franke header in the 62nd minute and a pair of Marios Lomis goals in the 82nd and 89th minute, making the game a lot closer than it had to be. Creighton ended the night with 31 shots, the most allowed by Marquette this season.
While every Marquette player and staff was ecstatic with the points, maybe no one more so than Noah Heim, who got his first career victory on his 20th birthday.
"At the end, I just tried to calm down the guys because we didn't want to undo all of the hard work that we did," Heim said. "We needed to keep the ball and keep possession because we knew that if they didn't have the ball, they couldn't score."
Marquette now plays TopDrawerSoccer's 12th-ranked Butler Saturday night. Marquette can secure a finish in the BIG EAST Tournament with either a tie or a win. The Golden Eagles moved up the table to fifth place with 1o points after Wednesday's win. The top six qualify for the conference tournament.
"Now we've got confidence heading into our final two games," Prpa said. "We're going to enjoy this win tonight, but starting tomorrow, everything will turn towards that game and we'll be looking for a result."