UWM uses two first half goals to beat Marquette in sloppy Milwaukee Cup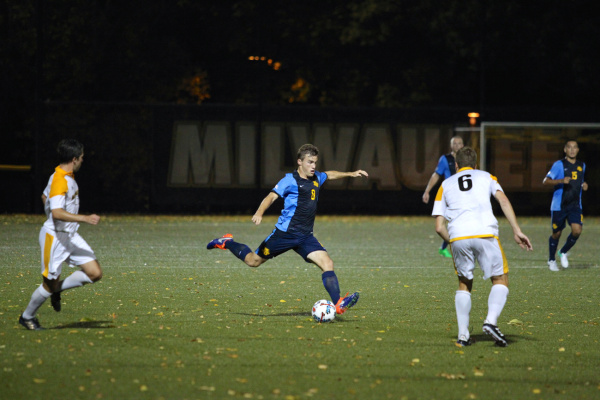 The University of Wisconsin-Milwaukee (4-4) used two first half goals to down the Golden Eagles (1-6-1) in the 45th installment of the Milwaukee Cup.
The derby was always going to be chippy, but even so, this particular match was even more so than usual. The match featured six yellow cards, 35 fouls and three stoppages due to players receiving medical treatment.
UWM matched the ferocity of the affair with a high press causing an assortment of problems for the Golden Eagles. From intercepted passes to overplayed through-balls and a lack of awareness by more than a few players, Marquette failed to execute its gameplan.
"I think we got mixed up in the inertia of their high press," Bennett said. "We made what should be a low-percentage game into a high percentage game for them because of our turnovers."
The Panthers got on the board first in the 18th minute when Alex Eastman found Nick Moon, who slotted in a ball across the box, and Reid Stevenson got a sliding cleat finish on it.
However, Marquette responded to UWM's high press with pressure of their own. Marquette had corner kicks seven times in the first half yet could not find the back of the net.
UWM got its second of the match towards the end of the first half. Marquette failed to clear the ball, and it fell to Moon's chest. He wound up and hit a half volley past Marquette goalkeeper Luis Barraza and into the bottom right corner of the goal.
In the second half, UWM used their home field advantage well and milked the clock. Neither team could sustain momentum until approximately the 70th minute. Before then, referees issued five yellow cards in a slugfest including Jake Kelderman's heavy tackle on Luka Prpa. Kelderman showed his studs and Prpa went down hard, but official Nikola Aleksic only showed a caution.
"The breaking up of play, I thought they did really well," Bennett said. "They played the game and the referee really well to slow the game down and it was not a great spectacle."
Milwaukee held Marquette's midfielders in check, particularly Luka Prpa and Brody Kraussel. Kraussel acknowledged the team's shortcomings after finishing the night with 10 corner kicks.
"I don't think we stuck to our game plan to be completely honest," Kraussel said. "Our game plan was to play out of the back and stick to building and we just started playing long balls which worked out better for them. It was our own fault for not sticking to our own game plan."
This is the first time in three seasons that the Cup will be staying across town at UWM, as Marquette has kept the trophy since 2014. Marquette will square off against No. 14 Georgetown Saturday in a major test for Marquette's offense. The Hoyas have only allowed six goals all season.
Leave a Comment