Mental miscues doom Golden Eagles in 4-1 loss to Villanova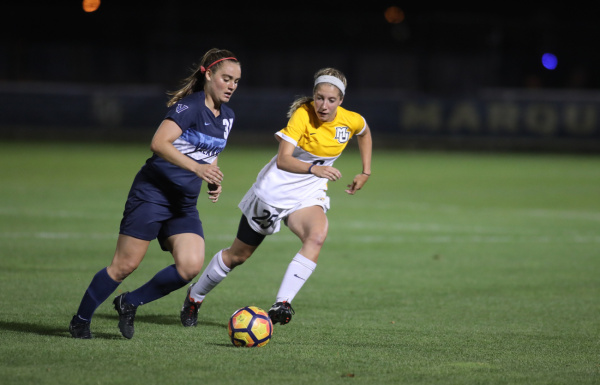 With Marquette's defense struggling, Markus Roeders called on junior defender/midfielder Leah Celarek to give his back line some relief. Celarek quickly sprinted across the bench, taking off her warm-up and throwing on one of Marquette's gold-and-white home kits before heading to the scorers' area.
There was one problem — it was the wrong kit. Instead of her no. 25 jersey, she mistakenly grabbed fellow defender Mary Kate Simon's no. 5 jersey. She donned Simon's no. 5 jersey and her own no. 25 shorts for the final 14 minutes of the first half.
Yet Celarek's mindless mistake served as a larger, more gloomy metaphor for Marquette's entire night Thursday against Villanova — a 4-1 loss to the team ranked four spots behind Marquette in the BIG EAST preseason poll.
"(Our excitement and inexperience) all came together not in the way we'd want," Marquette assistant coach Ashley Bares said. "And it showed tonight."
The Golden Eagles' normally-stellar defense fell apart Thursday night. For the first time in her career, Maddy Henry finished the game without a save.
"Maddy Henry is tough on herself– high expectations, high standards for herself," Bares said. "It's definitely going to be one she remembers."
Henry's nightmare began its descent in the 18th minute, when Emily Kuefler knocked in a header off a Kristin Barbour cross on coming from the right-hand side of the field. After an uneventful rest of the first half, Barbour went from goal-assister to goal-scorer in the 51st minute with a penalty kick goal buried into the bottom right corner of the net. Amanda Vocelka and Kuefler added insult to injury with goals in the 60th and 69th minute, both of which were from point-plank range.

At the same time, Villanova's five-player midfield curbed the Golden Eagles' possession throughout the night. Excluding an own goal in the 83rd minute, Marquette's only shot on goal was a Madison Dunker header in the 34th minute, which went fell right to the hands of Villanova goalkeeper Emily Harris.
"They did a great job packing it in and putting us under pressure," Bares said. "And we didn't respond."
Thursday's loss was also Marquette's first loss in a BIG EAST home opener in program history. It is also the first time Marquette has opened BIG EAST play 0-2 in program history.
"Tough and disappointing loss tonight," Bares said. "Especially after coming out on Sunday and not getting the result we were looking for."
Head coach Markus Roeders and company will visit St. John's Sunday and DePaul next Thursday. Marquette will be back at Valley Fields October 8, where they will square off against Providence.
"You're kind of just shaking your head," Bares said. "Not the pattern (or) the trend we want, so we're going to do what we need to to get the 'W' in our next game."