PLOEN: Marking needs to get better if soccer is to improve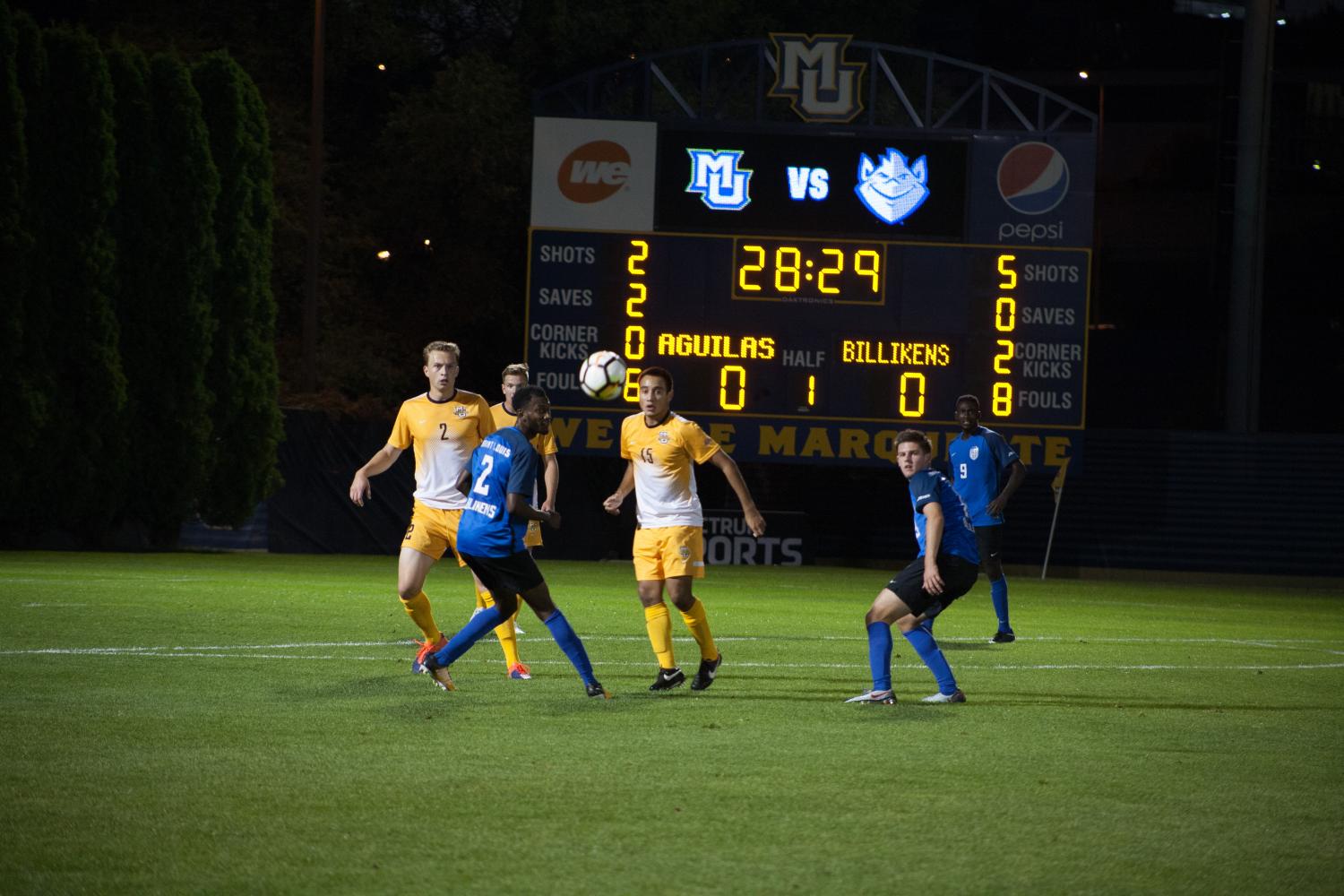 Behind every close call and near miss of this men's soccer season, there's a looming, omnipresent question about why they have yet to secure their first victory of the season.
Marquette is now 0-5-1, the worst start in head coach Louis Bennett's 12-year tenure. The Golden Eagles have lost two matches by one goal and had the lead in two others. Suspect defensive efforts have been the culprit in almost all of those losses, especially when it comes to man-marking.
Man-marking in soccer is similar to man defense in basketball, where a player is assigned to cover a specific opposition player. Depending on the tactics, coaches can use either a man-to-man system or a zone in which defenders defend a specific area of the pitch. Too often this season, Marquette has overlapped its coverage and an opposing player is left wide open.
In fairness to Marquette's defensive unit, it still features two true freshmen and a transfer. Its most experienced defender is a sophomore. Still, the man-marking has been poor and particularly a struggle throughout much of the season, including the last two matches.
via GIPHY (Credit: Marquette Athletics)
Last season, the defense looked completely different, yet it was still a struggle to keep the ball out of the back of the net. The Golden Eagles gave up the BIG EAST's fourth-highest goal total with 23, and their opponents averaged 1.44 goals per game.
Through six games this season, their opponents have scored at an even greater pace: 2.17 goals per game. Meanwhile, Marquette averages 0.67 goals per game. Both statistics rank last in the 10-team BIG EAST conference. To top it all off, the Golden Eagles have also failed to keep a clean sheet thus far.
It's not just about the number of goals they are giving up, but it's about the quality of goals in which their opponents score.
Since Kentucky's golden goal in overtime and Villanova's three goals on Saturday, the Golden Eagles have consistently struggled to mark attackers off the ball. While the on-ball defending has been solid albeit unremarkable, the defense completely loses formational integrity away from the ball at times, allowing players to get open for easy shots.
Steffen Bohm and Manuel Cukaj cited the New Mexico game in which Marquette gave up four goals as a particularly illustrative example.
"I think the problem was we were too late in our challenges," Cukaj said. "We didn't mark our man well enough to prevent them from having a shot on goal."
"We have very high expectations for us as a back line," Bohm said. "We always want to have a clean sheet, but sometimes those high expectations cause troubles. We don't control the controllable."
Marquette had even more proof of its backline struggles in its 3-1 loss to Villanova Saturday. In two of the Wildcats' goals, the scorer was wide open with Marquette's back line hopelessly watching. One of them featured a defender running into goalkeeper Luis Barraza while Villanova freshman Theo Quartey stood unmarked at the mouth of the goal.
via GIPHY (Credit: BIG EAST Conference)
"We have a very young back line, and we've taken it on the nose," Bennett said Saturday. "But that's not an excuse. They're good enough players to do the job. We just have to gel and put everything together."
Fixing the back line's marking issues has to be number one on the priority list for Bennett and his staff. If Marquette gets its first victory Saturday and begins salvaging whatever is left of this season, the back line will have to execute for the full 90 minutes with sharper marking and no defensive lapses.