Prpa nets equalizer as Marquette draws UIC at home opener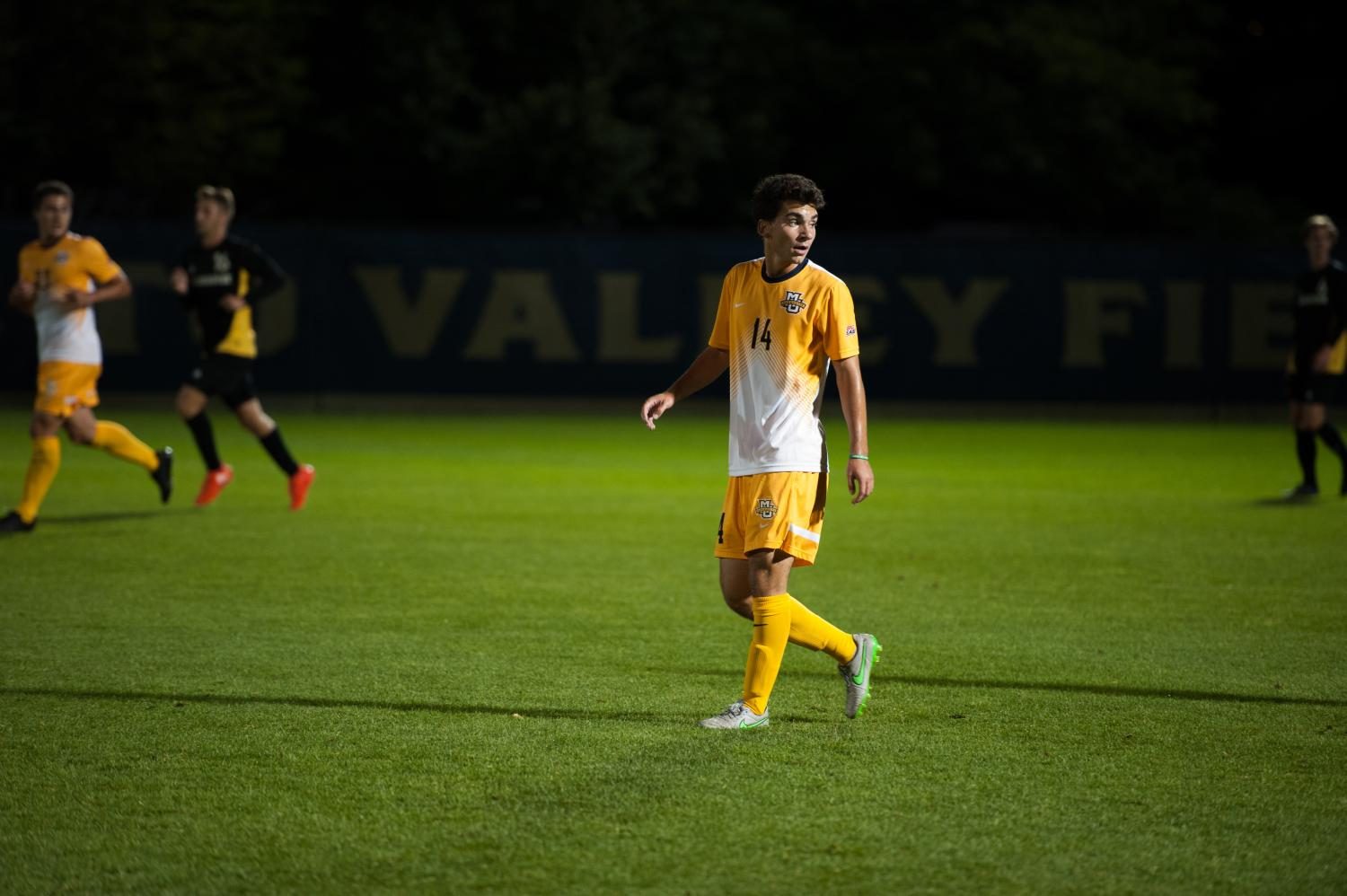 The Golden Eagles knew exactly who to turn to Friday night.
Down a goal with ten minutes to go in their home opener, it seemed as though sophomore midfielder Luka Prpa was the only option.
It was Prpa's header in the 80th minute that helped Marquette earn a draw against a pesky University of Illinois-Chicago side, as the game finished 2-2 after two periods of extra time. The goal was Prpa's first points of the season.
Head coach Louis Bennett compared the match to a boxing bout with two fighters going round for round with each other.
"For a boxing match, I thought they had us down on one knee after we scored," Bennett said. "But then in the second half, I thought we gave nearly as good as they could get. I thought we had some really good opportunities and scored a really good goal."
Marquette came out dominating the pace and possession early; they had three shots early on, which led to a goal in the ninth minute from freshman defenseman Brendan Skinner.
The Flames responded well by keeping possession and making smart runs, which led to two goals of their own, one in the 20th and the other in the 34th.
Bennett called the goals "disappointing;" both came off Marquette turnovers.
Marquette opened the second half with the same starting 11 and it nearly worked. Prpa had a golden opportunity to level the scoring in the 47th minute, but he pulled his shot wide into the side netting.
The back and forth action continued as the Flames seemingly dominated the next 15 minutes. Marquette regained the momentum again starting in the 67th minutes, when they launched six shots in five minutes. Most were blocked or sailed over the crossbar, but the Golden Eagles showed signs of life.
"Once we found ourselves after the first 15 minutes of the second half, all of a sudden, little by little, we started breaking them down," Bennett said. "When Brody (Kraussel) plays as a winger, he is very dangerous, so he gave us something we weren't getting in the first half, and that gave us some momentum."
Marquette pressed hard late into the second half as they searched for an equalizer. Sophomore Patrick Seagrist came up the left flank and crossed a ball into the box. Prpa bent low enough to get a head on it, placing it past the keeper into the back of the net to level it at two a piece.
Despite going to their second straight overtime, Bennett decided to use just 14 players total, a surprising move.  But with a short turnaround, Bennett knows how crucial recovery will be.
"We didn't want to break up any momentum," Bennett said. "We wanted the guys that dug that hole to get out of that hole.  I didn't think that turning to the bench would necessarily get us out of it."
"Recovery will be huge," continued Bennett. " We're at varying degrees right now with form, fitness and health. Once we get that, we'll have more to choose from."