Kraussel comes 'home' after three years at Loyola-Chicago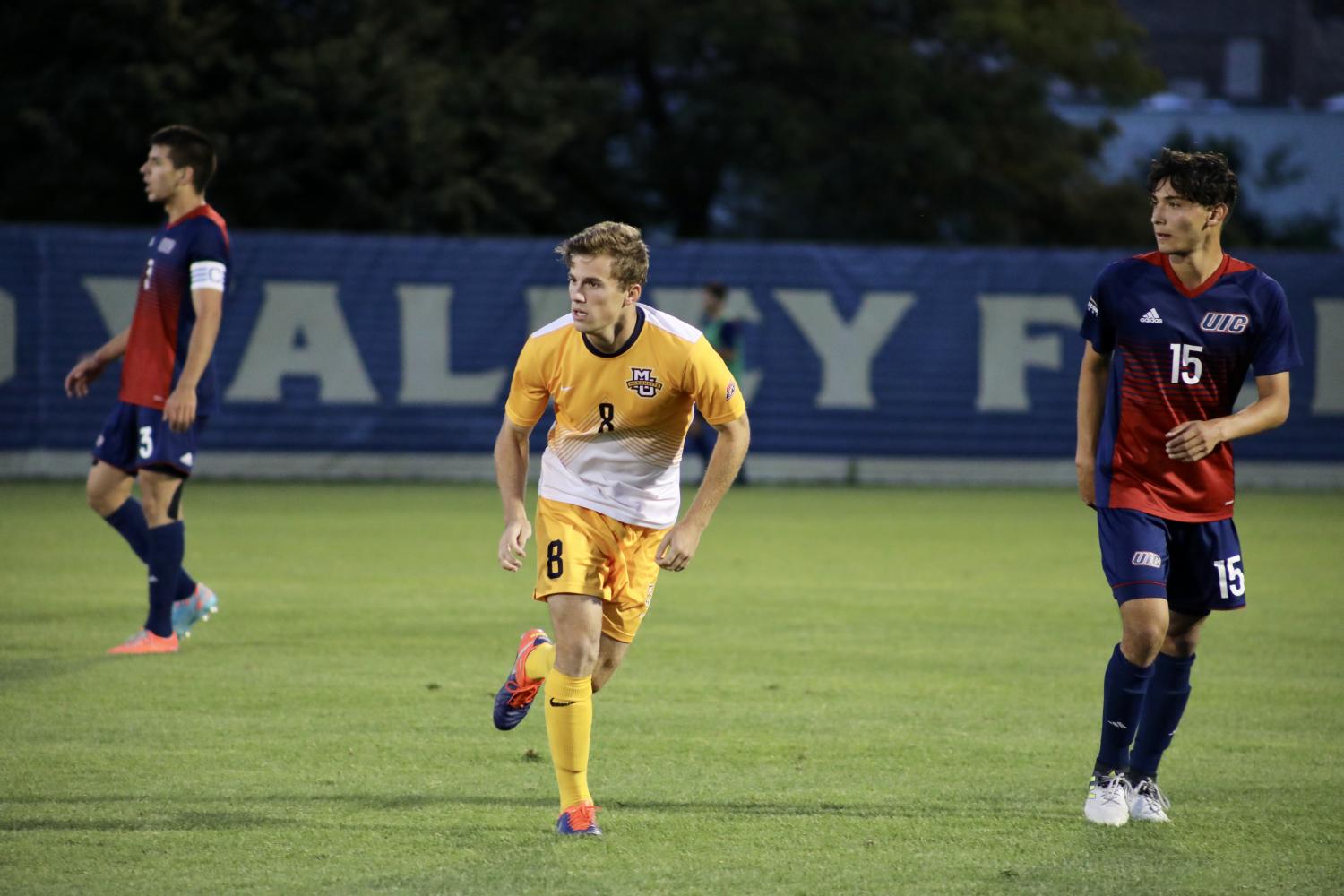 The first time winger Brody Kraussel tried to get past sophomore defender Patrick Seagrist in the first spring practice, Seagrist knocked him to the ground. Kraussel heard a pop. The coaching staff worried and the team doctor confirmed its fears: a separated shoulder. Kraussel would need surgery and miss all of spring practice.
Kraussel had always wanted to play in big matches against the likes of Wisconsin-Milwaukee and Wisconsin, not to mention BIG EAST stalwarts like Butler and Creighton. The decision to transfer from Loyola Chicago to Marquette was made last Christmas, just before Kraussel's senior year and final year of eligibility. Now he will finally get his chance after taking a road less traveled.
"I've always liked the Milwaukee area," Kraussel said. "I've always liked the team and have been a supporter, so it was always a bit of a dream to come back here."
Despite having a stellar season with Loyola Chicago, finishing ninth in the nation with 10 assists and leading the Ramblers to the second round of the NCAA Tournament, Kraussel wanted to finish his career with the team for which he'd always wanted to suit up.
"I was a Milwaukee boy, and I always wanted to play for this team," Kraussel said. "It was always a really cool atmosphere. The BIG EAST is a great conference and the soccer tradition is really appreciated here."
Growing up in nearby Muskego, Wisconsin, Kraussel would attend games at Valley Fields as well as summer camps held by the coaching staff. He always thought that he would wear the Blue and Gold, but it took him three years at a different school in order to get there. Once head coach Louis Bennett saw what kind of player Kraussel was, he immediately took a liking to his new winger.
"I knew it'd be right when I told him there was competition," Bennett said. "He said he understood and knew what he was getting into and really embraced it."
Easing into a new school is never easy and it is especially rare for an athlete to make the switch this late into a collegiate career. Bennett made sure Kraussel knew that nothing would be handed to him.
"I told him there's no guarantee that he'd play here," Bennett continued. "The only guarantee is that you'll get a jersey number and you'll get your equipment washed every time you use it, and you'll get our best."
Kraussel used that instruction to work on his game and aggressively rehab his shoulder during the transition period last spring. The period also gave him time to get to know the players, adjust to the tactics and formations and hone in on the program's attacking philosophies.
Perhaps the only familiar thing for Kraussel at Marquette was the faces on the soccer team. Five different Marquette players have played either with or against Kraussel at some point during his prep and club career, including fellow midfielders Connor Alba and Luka Prpa. It was easy for Kraussel to establish a rapport with his teammates.
"I think we've been jelling really well," Kraussel said. "We have been working really hard at it and we can play off of each other  play into each other's strengths and I think it'll definitely be harder for teams to focus on one guy in particular."
Kraussel returned from his injury in early summer and rejoined the team in preseason "in great shape." In the first three games, Kraussel has had an outsized impact on the pace of play, even if he only has one assist to show for it. If the ball is at Kraussel's feet, he can blow by defenders with surprising quickness and still have the awareness to deliver a perfectly-timed cross into the box.
Bennett has been missing a dangerous, speedy winger like Kraussel for several years now. The impact it's having on the offense hasn't escaped Bennett's notice.
"I think you were able to see what he could do, and what we expect of him to do in the last half hour of the UIC game," Bennett said. "We're not giving him carte blanche to do whatever he wants, but what we're saying is be who you are and be a winger."
After three years at a different school, a fresh start and a shoulder surgery later, Brody Kraussel can say he has truly come back home.
"To come back home to Milwaukee and Marquette, and for it to be my senior year, it really is exciting," Kraussel said. "They treat you like professionals here and (sic) prep you and hopefully you can make it to the next stage as well."