Volleyball third in BIG EAST preseason poll
In years past, Marquette volleyball has been a close second to the Creighton Blue Jays in the BIG EAST Conference, both in expectations and actual standings. Now the gap appears to be widening.
Marquette dropped to third in the BIG EAST preseason poll, four points behind the second-place Butler Bulldogs. The Golden Eagles garnered one first place vote, which is presumably Creighton head coach Kristen Booth's vote since coaches are not allowed to vote for their own teams. Creighton got the nine other first place votes.
Two Golden Eagles made the preseason all-conference team: sophomore outside hitter Allie Barber and junior middle blocker Jenna Rosenthal. Both of them had strong 2016-'17 campaigns and are likely starters this year. Rosenthal was the team's most efficient hitter by far. Her .363 percentage was second best in the BIG EAST. Barber chipped in 1.99 kills per set at a .283 clip.
A challenging preseason schedule awaits the Golden Eagles; their first five opponents all made last season's NCAA Tournament.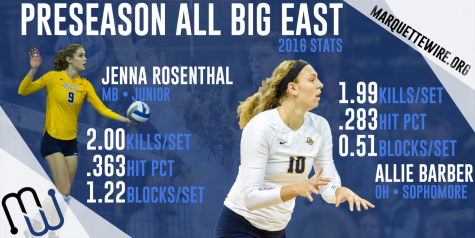 Men's soccer adds final player
A lot of Marquette's offense will run through its talented midfield, but it never hurts to have another player to link up with.
That player is English forward Jason Davis, who announced his signing with the Golden Eagles on Friday. He is a graduate transfer with one year of eligibility left.
"Jason is a point forward who will bring experience and size to our talented, but young 2017 squad," Bennett told GoMarquette.com.
Davis, who hails from Birmingham, England, is the tallest player on Marquette's team, standing at 6-foot-5. He is the 10th newcomer on Marquette and the 4th new Golden Eagle listed as a forward. The signing now means that Marquette has had at least 10 newcomers in back-to-back years.
Before signing with Marquette, Davis was a youth trainee with Burton Albion F.C. of the English Championship League, which is one step below the famous Premier League. Davis also played soccer at Loughborough University in central England.
Men's lacrosse grads make Major League Lacrosse playoffs
Unlike most sports, professional lacrosse has the thick of its season during the summer, which means it's playoff time for a couple of Marquette graduates.
B.J. Grill and Liam Byrnes, two 2016 graduates, clinched their spots in the playoffs comfortably, while Conor Gately and Ryan McNamara of the Rochester Rattlers had to beat the Ohio Machine Saturday to secure a postseason berth.
Now Gately and McNamara will square off against their former teammate Grill when the Rattlers face the reigning champion Denver Outlaws Saturday at 3:30 p.m. CST. The winner of that game will advance to the MLL Championship, where they'll get the winner of the game between Liam Byrnes' Florida Launch and the Machine. That game gets started at 6:30 CST.
If Denver wins the title, B.J. Grill will have captured a BIG EAST title and two MLL championships in under 18 months.
Quick shots
All three fall spectator sports have either begun preseason training or will do so this week. Women's soccer began practice last week, volleyball opens camp today and men's soccer kicks off training tomorrow.
Both men's and women's soccer will hold exhibition matches this week. The women will play Wisconsin – the same team that knocked them out of last year's NCAA Tournament – in Madison Thursday. Men's soccer has a home exhibition at Valley Fields Sunday against Green Bay. Both teams will scrimmage Friday during the Marquette Soccer Fan Fest at Valley Fields.
Class of 2018 point guard Quentin Grimes included Marquette on his newly-narrowed list of seven schools last week. For more info, including just how hard Wojo has been recruiting him,

read the latest from our recruiting reporter John Steppe.

Arizona State named

former women's basketball head coach Terri Mitchell the special assistant to the head coach. Mitchell was the Golden Eagles' longest-tenured head coach. She directed Marquette for 18 years between 1996-'97 and 2013-'14.