Marquette is no stranger to recruiting multiple players from the same Amateur Athletic Union program. Freshmen Jamal Cain, Ike Eke and Greg Elliott all played for The Family Elite Youth Basketball League. The 2015-'16 Golden Eagles featured four alumni of Wisconsin Playground Elite EYBL – Henry Ellenson, Sandy Cohen, Duane Wilson and walk-on Cam Marotta.
If all goes according to plan for Marquette, Game Elite 2019 prospects Josh Nickelberry and CJ Felder could join that list. Per Nickelberry and Felder, Marquette assistant Stan Johnson has been recruiting the two together.
The two prospects were in the Milwaukee area for the NY2LA Summer Jam last week. Here's what they had to say about Marquette, other schools and the chance to play together:
Josh Nickelberry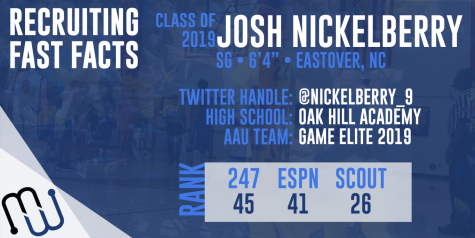 Which schools were the first to reach out to you June 15?
Kentucky, North Carolina, Louisville, Miami, UNLV, Nebraska, Georgia, Georgia Tech, Auburn — That's all I can remember right now.
Where do you have offers from right now?
I have 31 right now. I can't really remember all of them.
What was it like having North Carolina head
coach Roy Williams here at NY2LA?
I have a great relationship with coach Roy, so it's great seeing him here at every game supporting me and showing me love.
How much has Marquette been recruiting you?
I talk to Coach Johnson a lot. He's been recruiting me hard, telling me that I could come and change the program really.
What else has Johnson been telling you?
Just look at other players they had – Jimmy Butler and Dwyane Wade. Those two players, what they did for the program when they got there and where they are now – he's saying I can do the same thing.
Have you heard from Wojo yet?
Yes, I have. I don't talk to him as often. Coach Johnson does most of my recruiting, but he's a great guy.
What would you say your strengths are?
My athleticism, my shooting ability, I can handle the ball, I play defense … I just try to show all-around game because I feel like I'm an all-around player.
What have you been working on?
Keeping my ball-handling getting (sic) even better. Still getting shots off. Working on playing hard every defensive possession and my all-around game.
Marquette has also offered (AAU teammate) CJ Felder.
Does that impact your recruitment?
I love to play with him and my teammates. He tells us the same thing. He'd love to have us both up here. CJ is a great player, so I'd love to play with CJ in college.
CJ Felder
Which schools were the first to reach
out to you June 15?

Marquette, Virginia Tech and Auburn. They were pretty quick to reach out.
What has Marquette been telling you?
They're just saying that they love my game. They came to watch me a couple times and they're going to come down during the high school season and watch me.
Which places do you want to take unofficial visits to?
Marquette will definitely be one of them. Also Virginia Tech and UNLV.
What are the strengths in your game?
Rebounding. I can handle the ball, but I don't show it too much. And my athleticism.
What are you looking to work on?
My outside game.
Story continues below advertisement