Pure Dance celebrates 10 years
Organization marks milestone with spring show
When Kelly O'Malley, a sophomore in the College of Education, transitioned to Marquette and left her high school dance team, she felt like a piece of her was missing. Thankfully, she found a home at Pure Dance Marquette.
"Being able to continue dancing in college (is) probably my favorite part," O'Malley said. "We're like a family, so it's really fun."
O'Malley's talents, along with many others', were displayed Sunday, April 30 at Pure Dance Marquette's 10th anniversary showcase. They featured ten dances, all choreographed by the team, and guest performances from HYPE Dance Company and the Gold 'N Blues.
Pure Dance Marquette runs on the themes of family and tradition. With values such as friendliness, inclusivity and supportiveness of fellow students and their choreographic and dancing endeavors, Pure allows students to continue dancing and performing while in college.
Members have several activities and frequent rehearsals. Pure Dance events and gatherings help the group bond and grow as dancers and individuals.
Anya Koza, a sophomore in the College of Arts & Sciences, has been a member of Pure Dance since she started her college career two years ago.
"Aside from being a dancer (and costumer) on Pure, I also choreograph," Koza said. She choreographed a few pieces this semester.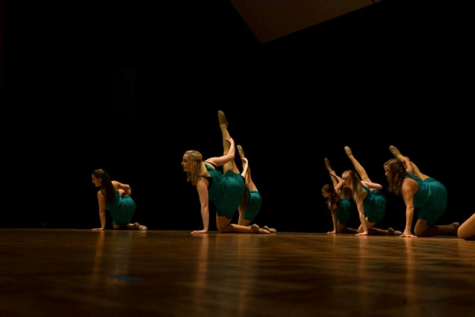 Activities the club plans include an annual Christmas party, social gatherings called Pure Bonding Nights and a banquet held at the end of every year. Social events have helped strengthen Pure Dance Marquette's sense of community, which has caused each member to have a stronger appreciation and love for their dancers, showcase and overall success of the club.
Katie Orfei, a junior in the College of Health Sciences and the current co-president of Pure Dance Marquette, said, "After dancing all my life, it was great to find a unique way to continue dancing in college."
Pure Dance Marquette is a student-run organization with "about 20 members, and (they) mainly do perform jazz and lyrical styles of dance and have done other styles in the past such as hip hop and ballet," Orfei said.
The club has special rituals such as preparation for their biannual showcase at Weasler Auditorium at the end of each semester. Members arrive as early as 8 a.m. to hang up lights, set up decorations and show programs.
Another tradition is what Pure Dance members refer to as the show day group huddle. This involves a special chant recited before the show and an energized pep talk to help the dancers get in the right mindset to have fun and perform at their best.
"We all come together and make sure we're gonna put our best foot forward for the performance," Orfei said.
Not only do Pure Dance Marquette members perform for the community, but they also participate in volunteering initiatives and use their shows as a way to raise money for the Greater Milwaukee community. This year they raised money for the United Performing Arts Fund, an umbrella nonprofit organization that raises money to support the arts in 15 of Wisconsin's most prominent performing arts groups such as the Milwaukee Reparatory Theater, Skylight Music Theater and the Milwaukee Ballet.
Members join for the opportunity to motivate others, to move to the beat, and fuel their passions that encourage and remind them to never stop dancing.
"What I love about Pure is that it's more than just a dance group. We're all friends … there's a social aspect to it," Orfei said. "When you go to practice you take an hour out of your busy life and just dance and be together so I really love that part about it."
Leave a Comment