Hip-hop group shares their passion for dance
Hype performers prepare for fall dancing showcase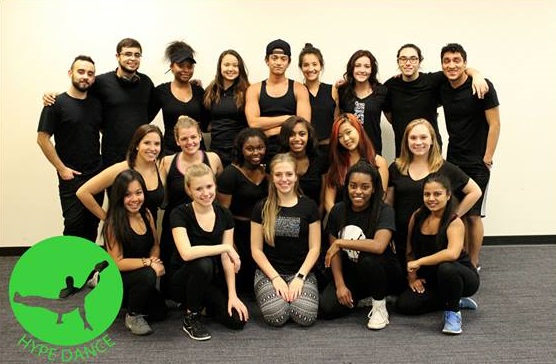 Hype Dance Company, one of the only Urban Dance Art companies in the Milwaukee area, has performed throughout the Midwest and is excited to get audiences hyped for their upcoming performance.
Hype's fall showcase RAW will be held Nov. 20 at 7:30 p.m. in the Weasler auditorium. Admission is free, and they are expecting a full house.
Hype is one of Marquette's three on-campus dance groups. Hype specializes in hip-hop, setting it apart from the other groups.
"I feel like hip-hop is completely different than most styles of dance," said Nicole Germino, a junior in the College of Health Sciences. "Someone can be hitting the moves, like popping and that kind of stuff, and other people are smooth. And the other thing I think is kind of cool is that there are so many set styles within one style of dance."
Hype was founded in 2001. A second chapter of Hype at University of Wisconsin-Milwaukee was founded in 2004. Marquette's chapter will perform at Hype UWM's showcase in early December.
Hype UWM will perform at the upcoming showcase, as well as other dance companies from the area including Revamped, ImPopular, PoisoneD and Locomotion.
Victoria Anjeh, a junior in the College of Communication, is one of Hype's chapter directors. Anjeh has been dancing since she was three and joined Hype her freshman year. As the chapter director Anjeh plans the showcases each semester, communicates with Hype UWM, runs practices and works with outside choreographers.
In addition to Hype, Anjeh has been involved in cheerleading and competitive dance. Dancing has become a crucial part of her life.
"All dance is a form of expression," Anjeh said in an email. "I love being able to express myself through movement and through music. Through that expression, there is the ability to create art through movement."
Other members of Hype found dancing later in life. Jeremy Rodriguez, a junior in the College of Business Administration, did not start dancing until he got to college. This is his first semester dancing with Hype.
"My favorite thing about Hype is the atmosphere," Rodriguez said. "It's the idea of family. Everyone has your back. It's like a cool thing – we understand we're students but we also understand we have to kill it on Friday too for our show."
Dancers practice two days a week, for a total of four and a half hours a week. At each practice, the group will learn a new piece that is choreographed by an outside choreographer or by members of the group.
There are four sets, or groups of similar dances, that Hype will perform on Friday night. All together, Hype will perform 13 pieces. Germino is excited to perform with Hype as a second semester dancer.
Aside from thinking about perfecting each dance move, Germino loves the feeling she gets when she dances on stage.
"I am just always thinking about how cool it is. You get people yelling your name, and you got people yelling your teams name," Germino said.
In addition to a showcase each semester, Hype performs around campus at different events like Dance Inc.'s showcase, talent shows and the BSO fashion show. No matter where they are performing, Rodriguez enjoys taking in the reactions from the audiences.
"(The audience) is so loud and people are yelling. They like get up out of their seats," Rodriguez said. "They pump you up and your facials are going to become so natural. It should be really fun."
Hype members are excited to get the crowd going.
"We want you to come and have a great time because we are having the time of our lives performing for everyone. Our shows are free for a reason. You cannot put a price on fun," Anjeh said in an email.