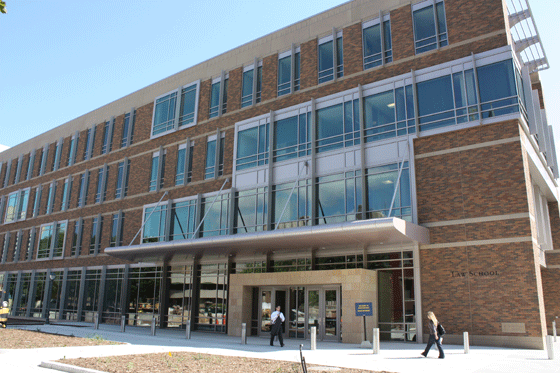 Peggy Troy, the president and chief executive officer of Children's Hospital's of Wisconsin, joined "On the Issues" with Mike Gousha last Thursday.
Gousha, a distinguished fellow in law and public policy at the Marquette University Law School, hosts the ongoing series, which he said brings together influencers in and around the region.
Troy is the first female CEO of Children's Hospital. She graduated from Marquette with a bachelor of science from the College of Nursing in 1974 and is a member of the university's Board of Trustees. As an undergraduate, Troy was a nursing intern with Children's Hospital, when it was still in Humphrey Hall.
Now, she's head of one of the nations top pediatric facilities. Gousha said Children's employs about 5,000 people including 1,000 doctors. It is a billion dollar company and has about 50 sites in Wisconsin.
Gousha also pointed out that under Troy's leadership, the focus is on the children first and not money, which Troy agreed is very important to her. He read the Children's Hospital vision statement, which is "Wisconsin kids will be the healthiest in the nation." This served as a thread for most of the conversation.
Achieving the vision statement, as Troy noted, requires quality doctors, infrastructure and attention to individual needs.
"We have some of the worst health disparities in the country when you look at the center of Milwaukee," Troy said.
Troy discussed a study conducted by Children's Hospital that narrowed Milwaukee into four inner city zip codes where the inequalities were the greatest. She said these areas also see high levels of poverty, teen pregnancy and child abuse. All of these factors can increase the risk of poor health.
"If the trauma is not corrected by age 7, you'll see brain damage," she said.
Troy said childhood abuse permanently effects behavior and often sends victims down a troublesome path where drugs and incarceration are probable. She said it's hard to fix the problem because the issue is part of a vicious cycle of poverty that has trapped families for generations.
"I see (disparities) in the (local Milwaukee) community I volunteer with," Erin Bardonner, a junior in the College of Health Sciences, said. Bardonner is interested in public health and working with children in the future.  
Bardonner said Children's Hospital and its values aligned with her interest. She appreciates how Children's has clear values then uses them to put the kids first.
"The impact of medicine and learning about the interconnectedness it plays with children and their lives is important," Bardonner said.
Troy said half of those children in Wisconsin are covered by Medicaid, a government-funded program. She said 54 percent of Children's Hospital revenue also comes from Medicaid. Troy said that if these programs were cut the children they help could be hurt the most.
Troy urged the audience to remember those facts and their importance when looking at the future of the country and national healthcare.
"Healthy kids are the future," Troy said. "We want to give healthcare before they become sick."