Into the board room
Meet Marquette's Board of Trustees
April 10, 2017
They are CEOs, federal judges, national correspondents, head coaches of professional basketball teams and presidents of million-dollar companies. They are also Marquette alumni and Jesuits. As University President Michael Lovell said, they are "thought leaders." They are the Marquette Board of Trustees who are tasked with governing the university.
The Board of Trustees is self-perpetuating: every board member is responsible for nominating possible new members who then go through what Lovell calls "an arduous interview process." Nominees are rated, evaluated and vetted before they are welcomed to the board.

The Board is in charge of the long-term decisions affecting the Marquette community, and as stated on the university website, "The board is responsible for preserving and enhancing Marquette's mission."
In Lovell's eyes, the board is his boss, and its role is to ask tough questions, like, "How is what we're doing addressing the problems within higher education?"
"One of the things I talk to the board about a lot is the landscape of higher education," Lovell said. The topics include student loan debt, online learning and transfer students.
Board Corporate Secretary Steven Frieder wants to make the distinction between governance and management. "Sometimes a common misconception is that many or every decision is made by the board and that's not true," Frieder said.
Frieder said the most important job the board has is hiring the university president, a responsibility that he classifies as one of governance. The board offers strategic guidance and acts as a final check on major decisions, but it does not write proposals and plans.
Another key responsibility of the board is fiduciary management. It approves or rejects any large-scale financial decisions, like tuition increases, to ensure that the university remains financially stable and operates on a balanced budget.
As a nonprofit board, all of the trustee positions are completely volunteer. The board currently consists of 35 members, following bylaws stating that it must always include between 25 and 40 members. Five to eight Jesuits and the president must also be on the board. Members can serve a maximum of 12 years. Outside of the these parameters, the board purposefully includes members of all different ages, genders, professions, geographical locations and backgrounds.
"We are serving lots of different constituents — first and foremost the students — but then also alumni, the business community, Milwaukee," Lovell said. "Having individuals on the board with experience in those areas is important, which is why you see a diverse group of people on the board."
Board members also have several individual responsibilities. They meet with the entire Board of Trustees four times per year and serve on at least one of five committees: executive, academic and student experience, finance and risk, external engagement and intercollegiate athletics.
Part of that time commitment is spent acting as an advocate for the university. They are expected to donate to the university as one of their top charities, as well as encourage others to invest. Within their business, political and philanthropic spheres of influence, they build Marquette's reputation and foster increased interest in the university. Here's a look at three board members:
Meet Steven Frieder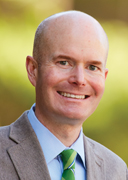 Frieder has been the Board of Trustee's corporate secretary since 2003. He is also an alum, having graduated with a bachelor's degree in history in 1995. As corporate secretary, he works closely with President Lovell and board leadership to coordinate meetings, create agendas and help committees. Although not a voting member of the board, he is there every step of the way.
What was your time at Marquette like and how has it influenced how you work with the Board of Trustees?

"It was a long time ago that I was a Marquette student, but hopefully that experience helps me keep the perspective of the students at the forefront of my work. I don't necessarily know what it's like to be a college student today, but I know what it's like to be a Marquette student. I try to keep that at the top of my mind to help the people I work with. I try to remind them that the reason we're here is to provide students with a transformational learning experience. My Marquette education transformed my life and I hope that can be the case for all Marquette students."
Marquette has a lot of big projects in the works as part of the campus master plan. What are you most excited about in Marquette's future?

"Overall, a lot of the different initiatives will make a Marquette education even better for our students. It's hard to pick one. I think all of them will really be essential to Marquette's success in the future. One that is particularly exciting is the biodiscovery project because there are so many students across different colleges that take some type of biology. That biodiscovery facility will really have a tremendous positive impact on student education for all students that take biology or some biomedical science classes."
Meet Peggy Troy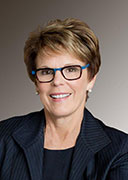 Peggy Troy was elected to the Board of Trustees in 2011. She graduated with a Bachelor of Science in nursing from Marquette University in 1974. She is now the president and CEO of Children's Hospital Wisconsin.
What was your time at Marquette like and how has that influenced you as a board member?

"I'm very grateful for the opportunity to give back to Marquette. It's an institution that gave me an amazing foundation and has allowed me to do what I've done in my career. As a Marquette alumna I have a good appreciation for what Marquette means and can mean to students in their lifelong experiences. I find that the board is there to ensure Marquette's strategy continues to evolve and emerge to meet the goals of educating the best and brightest of the future and helping students be the difference."
The board is very diverse, consisting of different ages, genders, professions, geographical locations and backgrounds. How does this diversity affect the board?

"It's incredibly beneficial. Because the board discusses the strategy and its evolution, the different thoughts and ideas that come forward by the different members of the board have a positive effect. Our current board chair, John Ferraro, likes to hear from others, and so board members are asked to participate and express their opinions, thoughts and ideas. It's a participative board, as opposed to one that basically hears reports and isn't heavily engaged."
Meet Janine Geske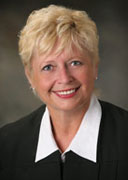 Janine Geske was elected to the Board of Trustees in 2015. She graduated from Marquette University Law School in 1975 and later taught there as a distinguished professor. While teaching at Marquette, she founded and directed the Restorative Justice Initiative. She served as a justice on the Wisconsin Supreme Court from 1994-98.
Why did you want to join the board of trustees?

"I love Marquette. I loved my years as a student. I've been associated with Marquette one way or another ever since I graduated. I think Marquette is a very exciting university and it accomplishes a lot academically but also just as much in transforming students, encouraging them to be all that they can be in terms of leadership and making change in the world. I wanted to be part of the board that is responsible for shepherding the university into the future and making sure we maintain not only our mission but the excellence in all other areas."
What are you most excited about in Marquette's future?

"It's a combination of maintaining the mission, yet adapting it to where social issues are going, for example with some of these complicated political issues like refugees and immigration. We want to maintain our conscience while working alongside students on these issues.  We also are making sure the campus is friendly and welcoming for students. We want to encourage innovation and research, and we are forward-looking in terms of the type of educational opportunities we give our students. All of that put together is a big package."