Jenna Rosenthal has always joked with volleyball head coach Ryan Theis that she wanted to join the track & field team.
It was one of her favorite activities in high school, and for a while, Rosenthal said she was better at track & field than volleyball. After meeting with strength coach Dan Kant-Hull, the jokes became a reality following spring break, and she's already experienced the hectic nature of being the only two-sport athlete on campus.
Friday, she competed in her first meet, coming in third in the high jump at 1.61 meters and sixth in the discus throw, throwing 37.25 meters.
She had little time to celebrate her accomplishments, as she quickly left for Chicago to rejoin the volleyball team, who beat fellow NCAA Tournament team Notre Dame in five sets with only a seven-woman squad. Sunday, she was back at the Al McGuire Center doing homework for her civil engineering class Monday. This is her new normal.
Her school days start at 5:30 a.m., when she wakes up and heads to the Al McGuire Center for volleyball practice at 6:30 a.m. After that, she attends class until 9:30 a.m., when she comes back for her individual weightlifting because she misses the team lift due to class. At 11 a.m., Rosenthal does prehab, a proactive approach to avoid injury.
From there, she grabs a quick bite and then heads over to the old Marquette Gymnasium for practice for either high jump or discus throw, which ends at 1:30 p.m. She then attends class 2-6:30 p.m. She repeats this four days a week for the remainder of the semester.
"(Jumping) coach (Rick) Bellford has been really good about keeping me fresh and everything because sometimes, he has to save me from myself," Rosenthal said. "I want more. He'll say, 'You're good, shut it down,' and I'll want more, saying, 'It's only been five (jumps).' He'll say, 'You don't need to push it because you've jumped all morning for volleyball.'"
"Jenna has been a breath of fresh air," Bellford said. "She is so excited to be on the track team and her positive energy is infectious."
Rosenthal is thriving off the change.
"I feel like I needed that additional sport in the spring just to keep me busy," Rosenthal said. "Even though my schedule is pretty hectic, it has helped me really stay focused and zero in with school and athletics."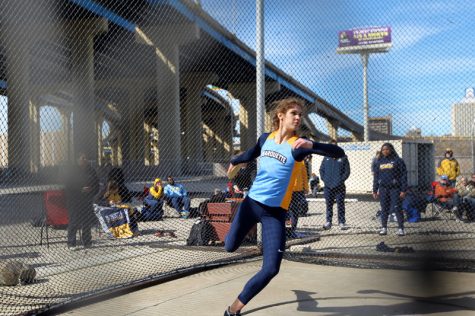 When Rosenthal told Theis she was joining track & field, he was initially shocked. As she went into detail about how each of the events would help her get stronger, coach Theis came on board. He worked out a strategy for how to still make volleyball her number one priority while being able to enjoy track & field.
"We discussed her previous track experiences and how she felt she could help track score points in the conference tournament," Theis said. "I said if she can help Marquette win another BIG EAST Championship, then I would support her being a dual sport athlete."
"It's just more so for fun," Rosenthal said. "But I'd love for me to help them score a point or two, and help them try to win another BIG EAST Championship. And for the coaches to let me fulfill my little track dream."
Rosenthal said this run will not be a one-season trial, as she plans on doing outdoor track & field for the remainder of her college career. If there's one thing she's learned throughout this process, it's that she can put more on her plate and still feel that she is getting enough out of her college experience.
"At the end of the day, it has prepared me for a lot," Rosenthal said. "I can actually handle quite a bit when you keep adding stuff on. In the back of my head, I am proud of the fact that I've been able to pull off the 18 credits, volleyball and now track & field. It is a little crazy, but knowing that I can pull this off, then whatever comes up in the future, this has prepared me for it."