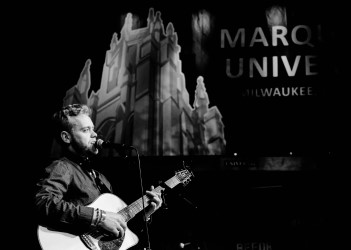 Ben Wagner and his band have been making music together for about three months. In fact, they came together so recently they just go by Ben Wagner, lacking an official name for their group.
As alumni of the University and avid musicians, Wagner said the freshly formed band thought last month's Battle of the Bands competition, put on by MU Radio, was "the perfect opportunity to play our first live show."
Wagner, who graduated from Marquette in 2014 with a degree in psychology, formed his four-person band entirely out of alumni and one current student. The three live around Milwaukee. Wagner works in ministry at a retreat center, but spends his free time writing and performing music.
Wagner said the band's sound combines folk quality with country storytelling. "It's like Jack Johnson meets country, and it's going down that American route," he said. Wagner, the lead vocalist of the band, also plays acoustic guitar.
Bass player John Halloran is a senior in the College of Arts & Sciences. When he isn't in class or studying, he is practicing with Wagner.
"I think we're all grateful for the freedom that Ben gives us. He really lets us experiment and mess around with different stuff when we're making music," Halloran said.
He also emphasized the difference between playing pre-written sheet music versus songs the group created themselves.
Andrew Stasiukevicius, a recent graduate of Marquette working as a civil engineer, said he appreciates the outlet the band provides. Although he isn't pursuing music professionally, he appreciates having a fun side-project to work on in his free time.
"Ben is such a good writer that we all have a great time hanging out and trying to make new music together," Stasiukevicius said.
The new act appreciated meeting other local bands at last month's competition. Battle of the Bands hosted eight bands from around Milwaukee.
"It was kind of cool to get to meet all these new musicians and hear what they're doing to try and promote their music," Wagner said.
At the end of the contest, judges picked the band Ako as the main winner. Ako also won the second award, the fan-favorite prize. However, they decided to pass the award down to runner-up, Ben Wagner and crew.
Wagner was appreciative and said it was "really cool of them to pass it down."
With the debut performance behind them, the band is shifting their focus to the future. They plan to put out an album within the next three months.
"I've been teaching the band songs now that I've been ready to put out for a couple years. So we're probably going to hit the studio next month or the month after and really start promoting our music and play as much as we can during the summer," Wagner said.
As they are working on new music to release, the band has hopes that their promising Battle of the Bands performance will be the start of something special.