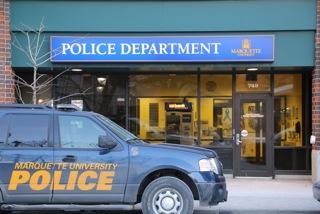 When Marquette University Police Department officers arrested three people in a row this summer at Walgreens, all stealing hygiene products, the officers let them know they were welcome to come into the department offices anytime for those same products.
MUPD's Homeless Outreach Team keeps stocks of clothes and other supplies for those in our neighborhood who might be in need. The HOT is comprised of several campus safety officers trained in how to interact with and offer advice to panhandlers and those experiencing homelessness, hunger or other similar struggles.
"Be the difference" is more than a moral obligation administration aims to place on students. Marquette's Jesuit values extend to the entirety of campus, including MUPD and their goal of fostering a safer, more secure neighborhood for all of our community members. Those who work with campus safety and MUPD embody the same concept of cura personalis that we students do.
MUPD's HOT was inspired by and modeled after a similar Milwaukee Police Department program, but the Marquette team actually functions very differently, Capt. Jeff Kranz said. Jesuit universities are placed in certain neighborhoods to socially and economically support their greater communities, and Marquette is no exception. As our neighborhood is also home to places like the Milwaukee Rescue Mission, officers don't have to look far to find people at bus stops or on street corners in need of their services.
These trained MUPD officers are well-versed in the problems that face the people they aim to serve and are knowledgeable of the resources available not only at Marquette, but throughout all of Milwaukee too.
Kranz said that even more important than HOT training are the day-to-day interactions the officers have with community members. The officers often encounter the same people in these situations more than once, and as part of the program, they learn more about those in need every day. By building relationships, MUPD is able to find the best possible solutions for each individual, building a community in and around Marquette in the process.
Students often feel uncomfortable around Milwaukee's less fortunate. We see this in students who are afraid to ride the city bus, or who are afraid to walk past 21st Street. Having MUPD lead by example through the HOT can serve as an example for students of how to reduce fear and ignorance and promote understanding.
As students, we sometimes underestimate all the good MUPD does for this campus, and we may think of the officers as punishers rather than protectors. The HOT is an important program that deserves more appreciation and recognition on campus, and it proves MUPD's dedication to its mission. When campus safety transitioned from the Department of Public Safety to an official police force a few years ago, one of the main goals was to make this neighborhood a safer place, not only for students, but for all of our neighbors. The HOT is a testament to this goal.