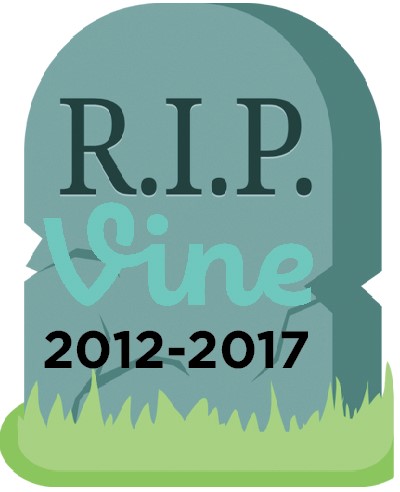 Four years of Vine felt like six seconds on loop for some, with constant repeats of fail videos and makeshift musical artists dominating media feeds. Before Snapchat and Instagram created their own video services, Vine was many people's go-to for shorts on comedy, music, art and more.
Vine, shut down Jan. 17, will now be a video formatting app which allows users to make the same six-second videos it was once famous for, except with no social aspect.
"I would have been a lot sadder if this had happened when I was in high school," Elyse Monaghan, a sophomore in the College of Business Administration, said.
She does get a kick out of the trending hashtag on Twitter about the matter, "#RIPVine." She used to be an avid user of the application and even made her own videos from time to time.
Vine's self-acclaimed peak was in 2014, before many current students attended Marquette.
Danny Gaughan, a sophomore in the College of Arts & Sciences, said he liked it when Instagram didn't have videos and Snapchat wasn't that big yet.
Vine is owned by Twitter, and was originally intended to be a video service that would coincide with their app. It was created in 2012 and generated buzz because of its short, looping video format that was different than anything people had seen before.
Twitter and Vine users never foresaw how big the social aspect of it was going to be.
"Vine wasn't mainstream when it first started, so people at my high school just posted whatever they wanted," Gaughan said. He attended a private high school and said that sometimes people got in trouble for the content they would post on the application.
Vine evolved into a huge social media presence, with lots of users and many people gaining fame from their videos. Famous Vine users like Jack & Jack and Nash Grier made careers out of their Vine recognition, signing record deals and movie contracts. Monaghan said that her personal favorite Vine star was the user Nut, who made quirky and humorous videos but never gained the kind of sponsored fame that Grier and Jack & Jack did.
Maggie McDonald, a junior in the College of Business Administration, also said Nut was her favorite Viner.
"I used to watch Vine in high school every night before I went to bed," McDonald said. She's a little sad that the service is shutting down, but says that it simply became irrelevant.
Gaughan, Monaghan and McDonald all said that they deleted the app before its shutdown because it was not entertaining or relevant anymore. It was overshadowed by Instagram video, which offers users the chance to post 60 second videos.
"Six seconds was too tight of a time constraint," McDonald said.
Instagram's longevity and Snapchat's rising fame ultimately won out over Vine. In October 2016, the company announced that it would be shutting down the app in the coming months. It was not generating the kind of revenue that it did in 2013-2014, and its future was in question due to quick turnover rates in the executive department.
Previously posted videos will still be available to view on Twitter and beyond, but Vine's short yet notable time in the social media world is officially over.
Story continues below advertisement