MUBB routs SIUE despite early turnovers
Hang on for a minute...we're trying to find some more stories you might like.
Head coach Steve Wojciechowski and the Golden Eagles closed the book on their non-conference schedule with a 89-56 blowout over SIU-Edwardsville.
Turnovers plagued the Blue and Gold right away. The team turned the ball over five times in the first eight minutes. Those turnovers barred Marquette from taking the lead until the 10:38 mark.
To make matters worse, a Marquette team that has already been beaten up with injuries had another scare when Duane Wilson injured his ankle early in the first half.
"I just stepped on the guy's foot as I was coming down, but it's doing fine," Wilson said. "It (didn't have) much swelling when we looked at it at halftime."
Wilson returned in the second half.
Senior center Luke Fischer epitomized the team's early woes, starting the game 1-for-5 despite quality shot attempts. Wojciechowski then replaced Fischer with sophomore Matt Heldt.
Heldt did not waste any time before making his presence felt, notching his first block within a minute of entering the game and scoring five of Marquette's next eight points. The only other points in that stretch came from a momentum-shifting 3-pointer from redshirt junior Wilson.
"We weren't playing under control and making the simple plays or just running our offense hard enough," Wilson said regarding the team's change in offensive production. "We were worried about offense too much, but once we got out of that work on the defensive end, that's when the offense came easily."
"We were a little careless with the ball to start the game," Wojciechowski said. "We talked about not being careless with the ball, so hopefully it was just a matter of them listening."
"(Heldt) brought a lot of energy off the bench," Wilson said. "Matt is a great role player. … he comes in with the same attitude every day and we know what we are going to get out of Matt."
"We certainly got a huge lift from Matt Heldt," Wojciechowski said. "He made some really big hustle plays for us that were uplifting for our team."
Heldt's offensive spurt complemented a plethora of SIUE turnovers. The Cougars had five turnovers in a 3:59 stretch, to put a proverbial nail in their coffin. Marquette built an 18-point lead by halftime.
After trading baskets for the first seven minutes of the second half, Marquette's offense broke through with a 7-0 run.
As Marquette ran away with the game, scoring down low was a huge part of their success, finishing the night with 50 points in the paint. To put that in perspective, the entire SIUE team had 56 points Wednesday.
"In our preparation for the game, one of the best things SIUE does is keep people off the 3-point line. … they're one of the top 50 in the country in that," Wojciechowski said. "We wanted to drive the ball and we wanted to post and attack the paint."
The team's focus down low resulted in Heldt matching his career-high point total with six, despite foul trouble and Fischer scoring 15.
Marquette also had excellent guard play, most notably from sophomore Haanif Cheatham. The Fort Lauderdale, Florida, native shot 80 percent from the field on his way to scoring a team-high 19 points. Jajuan Johnson also made the majority of his shots while scoring 14.
With the win, Marquette will enter BIG EAST play at 9-3. The team will begin conference play next Wednesday against Georgetown.
"We got two freshmen that are ready for the BIG EAST," Wilson said regarding Hauser and Howard. "Usually freshmen have the jitters, but when we went to Georgia I saw two freshmen on their first road game playing like it was nothing, playing like they were juniors or seniors."
At the same time, Wilson said he recognized that the team must improve the way they open the second half.
"We always struggle in the second half in the first four minutes. It's just a mental thing," Wilson said. "In the BIG EAST, if we don't have a strong start, they'll come out of the gate and just kick us."
"We're going to have to have a team full of guys playing really well because there are no nights off in our league," Wojciechowski said. "Every night's going to be a battle."
FLOOR SLAPS:
Harris' homecoming: Wednesday marked a homecoming for SIUE head coach Jon Harris, who played 119 games in a Marquette uniform from 1999-2002. Harris, who was a teammate of current Marquette director of player personnel Travis Diener for one season, received a noticeable applause from the 11,925 fans in attendance.
Lack of Reinhardt but return of Howard: Freshman point guard Markus Howard was back in action Wednesday after missing Monday's game against St. Francis-Pennsylvania. Howard was withheld from the starting lineup and scored only two points in 19 minutes. Katin Reinhardt, who missed Monday with a lower leg injury, remained out. Wojo explained that he did not want to rush Reinhardt back from the injury when he wasn't 100 percent.
3-point shooting a no go: Even with the return of another perimeter threat, Marquette could not find their stroke from 3-point range. The team shot an uncharacteristically low 6-for-16. Freshman Sam Hauser and redshirt junior Andrew Rowsey, who are normally superb from long range, shot a combined 2-for-9.

About the Writer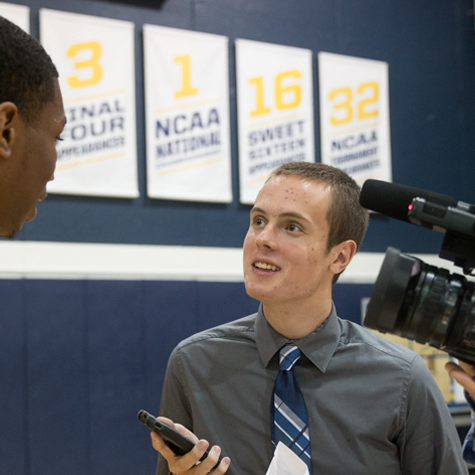 John Steppe, Executive Sports Editor
John Steppe is the executive sports editor for the Marquette Wire. He is a junior majoring in journalism and double-minoring in digital media and Spanish....