MU commit Ike Eke thriving after adverse basketball beginning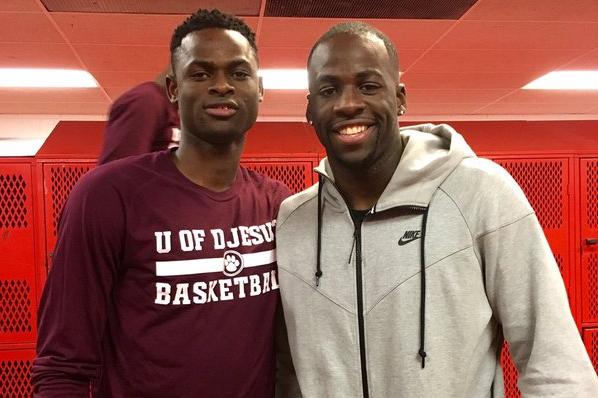 As Matt Schearer would walk into University of Detroit Jesuit High School and Academy's gym every day for basketball practice, he always saw three familiar faces — assistant coach Reginald Winston, University of Illinois-Chicago commit Greg Eboigbodin and Marquette commit Ike Eke.
Schearer, now a freshman in the College of Business Administration, explained that Eke would always spend 15 to 20 minutes before practice working with Winston.
"(Eke) would always be one of the first guys in the gym and he'd have a smile on his face as he walked in," Schearer recalled.  "Walking into the gym and seeing Ike and Greg work hard and just get after it every single day really showed the entire team what a constant work ethic is."
Eke's extra effort in the gym has certainly paid dividends.  He garnered interest from Michigan State, Marquette and Pittsburgh, among other schools, before committing to Marquette in June.
And his success is not limited to recruiting. He also won a state title this March with U of D Jesuit. Eke put up a double-double in the Cubs' title-clinching rout of North Farmington.
"Ike has played a huge role in our success, and his role continues to develop," U of D Jesuit head coach Pat Donnelly said.  "Ike has been a part of three Final Four teams and a state championship."
"On the court, he's something special," Schearer said. "He can run up the floor like a deer.  He's got great speed and leaping ability and he can shoot from outside, so the potential is definitely there."
However, Eke's basketball career had a much different start than the prototypical Division I athlete.
Eke lived in Enugu, Nigeria, a city slightly larger in population than Seattle, through eighth grade before moving to the United States for high school.
In Nigeria, Eke played soccer competitively as a midfielder and defender, but there was no organized basketball available.
"We didn't walk out and have practice like (in the United States)," Eke explained.  "We just played pick up basketball every Saturday."
Eke's first time playing organized basketball was when he arrived at U of D Jesuit.  This provided Donnelly a unique set of benefits and challenges.
"It was both good and bad," Donnelly said.  "Good because Ike had not developed any bad habits.  It was bad in the sense that he had very little basketball knowledge and skill."
"We did not find it challenging," Donnelly continued.  "Ike had a strong desire to learn and wanted to become a complete player.  He takes the same approach in the classroom."
After all the hurdles Eke faced arriving at U of D Jesuit, his adversity had only begun.  The Michigan High School Athletic Association, the governing body for high school athletics in Michigan, ruled Eke and Eboigbodin ineligible for their freshman years.  They were suspicious of booster Ron Thomas, who recruited the two power forwards to come to the United States.
"I think Ike had a difficult time understanding the reasoning for his ineligibility, but he made the best of the situation," Donnelly said.  "He worked hard to develop in the classroom and on the court during that year."
"It was tough for (Eke and Eboigbodin) because the entire state was really looking at them," Schearer said. "They really responded to it very well."
Three years with Donnelly's staff resulted in an impressive progression from his freshman year.
"Each year, (Eke's) role has changed with increased responsibilities," Donnelly said.  "His freshman year, he was a practice player and rim protector."
"His sophomore year, he developed an ability to score and defend in the paint," Donnelly continued."Last year we expected him to be a double-double player for us, and he continued to develop as an offensive player.  He also improved athletically and showed his abilities running the floor and finishing at and above the rim."
This rapid progression caught the eye of Wojciechowski early in his tenure at Marquette.  At the time, he was recruiting Cassius Winston, a teammate of Eke and a current freshman at Michigan State.
While many coaches would consider Eke's soccer-first background as a disadvantage, Wojciechowski, who played soccer in high school, views Eke's background as an advantage.
"Playing soccer helps basketball players," Wojciechowski said. "Whether it's footwork or the feel of positioning and the people around you, I think soccer can be a real benefit."
Wojciechowski has been impressed with Eke's wide range of talents, yet his footwork sets him apart from others in the program.
"He's got better feet than anyone in our program right now," Wojciechowski said. "He's not only a good vertical athlete where he can jump high and play above the rim, but he's a really good ground athlete where he can move laterally and stop and start incredibly quickly."
Eke will enter the season as both a reigning state champion and high-major commit, yet Donnelly does not expect him to dwell on this whatsoever.
"We expect bigger things from Ike this season, and I think he is mentally and physically prepared for that challenge," Donnelly said. "He has developed an excellent jump shot off of ball screens, his offensive abilities have increased dramatically, and he is also more aggressive rebounding at both ends of the floor."
Donnelly also believes that Eke could contend for Mr. Basketball in Michigan.  He would be the first Marquette commit to win the award ever and the second from U of D Jesuit.  Winston became U of D Jesuit's first winner last year.
Even as Eke is thriving both on and off the court at U of D Jesuit, he still misses his first sport.
"I love (playing soccer)," Eke, an Arsenal fan, said. "I wish I could still play it now."
Even though Eke has faced mountains of adversity, his infectiously positive and friendly personality have remained unaffected.
"Ike always has a smile on his face," Schearer said. "He's very respectful to everyone he meets and just an all-around great person."
"He's one of those guys that lights up a room when he walks into it," Wojciechowski said.  "He gets along with everyone."