Assistants key to women's basketball turnaround
Boggess, Skeete and Merritt bring diverse coaching styles to table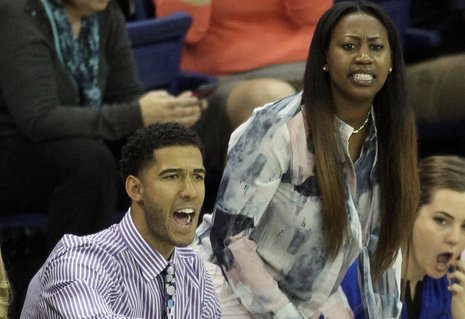 Every Marquette women's basketball fan knows head coach Carolyn Kieger. However, very few people know the three people who help her run the team.
Ginny Boggess, Scott Merritt and Vernette Skeete are the assistant coaches for the team. They create game plans, run player drills, bear a lot of the recruiting load and work with their boss to establish a team culture.
"All of my assistant coaches I knew prior (to coming here)," Kieger said. "That was important to me because when you're building a family culture, I wanted to make sure that my staff believed in the same things I believed in."
THE KINDRED SPIRIT
Some students enter college not exactly sure what they want to do with their life. In 2005, Vernette Skeete nearly exited college that way too.
"I was sitting in my dorm room five days from graduation and my head coach (from high school) called me," Skeete said. "He asked me what I was doing and I told him that I was probably going to get ready to go to graduate school, maybe think about playing (professionally), but I didn't really have it all figured out. He said 'I'm going into administration; would you like to come back and coach?'"
Despite never considering coaching before, Skeete took that job at Malone High School in Florida and brought them to the state finals. Four years later, the University of Miami (FL) hired her as the coordinator of basketball operations, which eventually turned into an assistant coaching job. While coaching, she shared a sideline with Kieger, who became an assistant after graduating from Marquette. The two got along famously.
"Her and I have both been running the same workouts for years and share a lot of the same player development philosophies," Kieger said. "So that's an easy transition for us now."
At the conclusion of the 2012 season, Skeete left the Hurricanes for her first head-coaching job at Gulf Coast State College, a junior college in Panama City, Florida. She spent two years there, then got a phone call from a fervent Kieger, who had recently taken the reins at Marquette.
"She was like, 'Oh, we've got this here and that here,' and she was telling me about all this stuff and what we could do. It just got me excited."
MR. FINAL FOUR
Scott Merritt had no collegiate coaching experience before coming to Marquette at the beginning of last season. Then again, it's not as if he really needed any.
Merritt played at Marquette as a forward and center from 2000-04, starting alongside Dwyane Wade as a member of the 2003 Final Four team. After graduation, Merritt played professionally overseas in Japan, South Korea and Turkey.
"I've had some extremely difficult situations in other countries, and it kind of prepared me for pretty much anything that the job would bring about," Merritt said.
Kieger's first two years playing for Marquette aligned with Merritt's final two years. The two developed a friendship, which ended up leading to a coaching opportunity.
"I approached her when she got the job," Merritt said. "I think she thought I wanted to get involved on the men's side … but I wanted to coach at the college level with either men's or women's."
While all three assistant coaches are involved in almost every facet of the game, Merritt's specialty is fairly well known. As a 6-foot-10 big-man, and his greatest accomplishment has been teaching this guard-heavy team to box out for rebounds, fight their way into the paint and play like forwards.
"Our bigs will do guard stuff and our guards will do bigs stuff," Merritt said.
That versatility defined Merritt as a player, and it seems to define his coaching philosophy as well.
THE STRATEGIST
By the time the average Marquette student has rolled out of bed, Ginny Boggess has arrived at the office, watched her daily share of game film and is deep into her recruiting calls.
"I like to get in and get settled before the hustle and bustle gets started," Boggess said. "I go over all my recruiting assignments and see if there's anybody playing or anybody I need to touch base with that day."
Boggess, like most basketball assistant coaches, played in college, but openly admits that she was not a natural athlete, even during her playing days at Wingate University. It was this lack of natural athleticism that led Boggess to coaching.
"I kind of fell in love with the technical side of the game," Boggess said. "The challenge (was) me being not so athletic, and so how could I gain an advantage?"
In the ultra-competitive world of coaching, there is no such thing as an inopportune time for a job offer. If there were, though, then it may be at the exact moment that Boggess received hers from Marquette. She accepted the job Sunday, left for a trip to Nicaragua Monday and flew from her vacation straight to Marquette.
"(Kieger) insisted I go on the vacation, which is why she's so awesome," Boggess remarked with a sly chuckle.
As adept as Boggess may be on the blackboard, it is her dedication to the game that won Kieger over.
"For her, it's more than X's and O's," Kieger observed. "She wants to mentor kids for life, and that's really important to me."