Women's basketball to face tough test against No. 7 Oregon State
Game will be first national television appearance of the season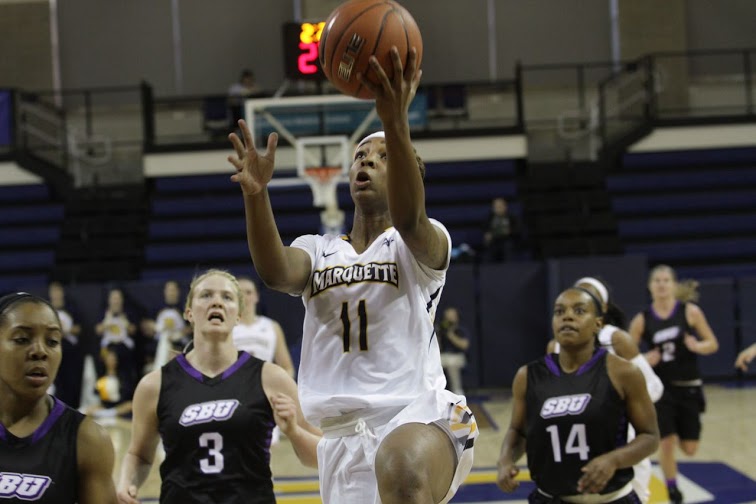 Andrew Goldstein, andrew.goldstein@mu.edu
December 3, 2015
Carolyn Kieger knew this game would be tougher than just about any other. That's why she scheduled it.
Marquette's matchup against the No. 7 Oregon State Beavers Thursday night will be a good chance for Kieger to assess how her young team plays against top-quality competition. It also fits within one of the overarching themes of this season for the Golden Eagles: player development rather than wins and losses will measure player progression.
"We want to play them competitively, and we want to get better," Kieger said. "It's not necessarily about who our opponent is. It's about us. We keep saying that everyday in practice. We've got to get better for us, not for who we're playing."
That may be the right approach to take in the face of one of the toughest games many of these players will play over the course of their entire careers. Standing in the way of Marquette's team comprised of mostly freshman is an experienced, talented and undefeated Oregon State squad. They went 27-4 last season and made it into the NCAA Tournament as a 3-seed before suffering an upset loss to Gonzaga in the tournament's second round.
The Beavers look no less effective this year than they were last year, winning each of their first six games by at least 16 points. A trio of high-impact seniors – guard Jamie Weisner, forward Deven Hunter and center Ruth Hamblin – lead a Beaver offense that is averaging over 85 points per game. Weisner has been particularly nettlesome for opposing defenses, averaging 20.2 points per game.
"It's going to be a scoring match, that's for sure," Kieger said. "We're going to have to outscore them, because it's going to be hard for us to stop them on the defensive end. We need to push tempo and make them have to keep up with us as well."
If the Golden Eagles are to have any hope of pulling off one of the biggest upsets in program history, they will most likely have to turn to their backcourt, which has been their main source of offensive production. Freshman guard Allazia Blockton has been particularly effective, averaging a team-leading 16.3 points per game and boasting a respectable 45.6 percent field goal percentage.
"(Allazia) is such a hard matchup for most teams because she can post up on the inside, beat you with the 3 or take it off the dribble," Kieger said.
Tipoff will be at 6 p.m.  at the Al McGuire Center, and Fox Sports 1 will televise the game nationally. This will be the first of Marquette's four appearances on national television this season, and a victory would surely garner even more attention.