MUBB preview: Iowa comes into town for Gavitt Tip-Off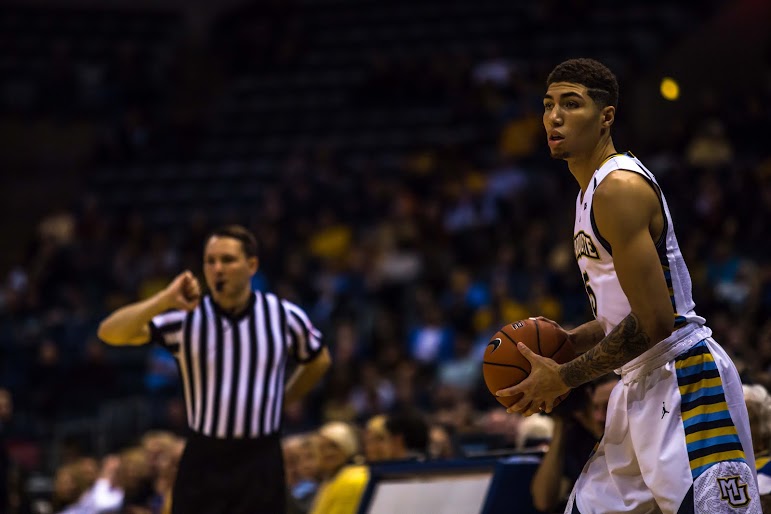 Dan Reiner, daniel.reiner@mu.edu
November 19, 2015
The next week of play will be telling for the Marquette men's basketball team. The Golden Eagles begin undoubtedly their toughest stretch of the non-conference slate, and by Tuesday fans will have a more definitive outlook for the team – for better or for worse.
Marquette hosts Iowa tonight as part of the inaugural Gavitt Tip-Off Games, a head-to-head competition between teams from the BIG EAST and Big Ten. The Golden Eagles come off a shaky overtime victory against IUPUI Monday in which they turned the ball over 20 times and shot just 21 percent from three-point range.
"We have to get better all-around," head coach Steve Wojciechowski said after Monday night's win. "The thing I think we can clean up in a hurry is our turnovers. We should be a team that has a good assist-to-turnover ratio."
As was expected before the season, Marquette's big men Luke Fischer and Henry Ellenson lead the offensive charge for Marquette in the early going. Fischer is averaging 14.5 points and 10 rebounds through two games, while Ellenson is averaging 19.5 points and 9.5 boards. However, the Hawkeyes present one of the toughest matchups for the pair of 6-foot-11 Golden Eagles.
Iowa starts four seniors, including 6-foot-9 forward Jarrod Uthoff, a Preseason All-Big Ten selection. The former Wisconsin transfer is averaging 17 points and 6.5 rebounds through the Hawkeyes' two easy home wins against Gardner-Webb and Coppin State. Paired with 7-foot-1 senior Adam Woodbury and 6-foot-9 sophomore Dom Uhl, Iowa has a tall and talented front line for Marquette to handle.
Marquette's biggest problem, meanwhile, has been its defense, which has allowed 77 points per game against Belmont and IUPUI. The young team has struggled with defensive rotations in the man-to-man defense, often leaving players uncontested on the perimeter or free under the basket to collect offensive rebounds. Wojciechowski switched to a zone defense midway through the IUPUI game, which appeared to be effective for the most part.
Not only will the Hawkeye offense challenge the Golden Eagles on Thursday, but the big lineup will also give Marquette more preparation for Monday's showdown with No. 23 LSU and star freshman Ben Simmons in New York. Simmons is listed at 6-foot-10 but plays at small forward, presenting a matchup nightmare for any team. The Australian is averaging 16.5 points, 11 rebounds and 5.5 assists so far.
If the Golden Eagles can take some lessons from Thursday's game into their bout against an equally young LSU squad, the pieces may fall in Marquette's favor. Regardless of Monday's result, Marquette will face another tough matchup in either Arizona State or North Carolina State Tuesday.
A few wins could put the Golden Eagles in the national conversation. A winless week could result in a setback the team may not be able to overcome.