Men's basketball falls to Belmont in season opener
Ellenson and Fischer record double-double's in season debut
Hang on for a minute...we're trying to find some more stories you might like.
Henry Ellenson did all he could to keep the Golden Eagles in the game in his Marquette debut. When it appeared it was slipping away from Marquette in the second half, Ellenson scored seven points in a two-minute, 11-0 run by Marquette, tying the game at 56 with 12 minutes to play. After Belmont countered, Ellenson answered again, scoring five points in an 8-0 run.
It just wasn't enough to get the Golden Eagles a victory.
Marquette fell 83-80 to Belmont in the first game of the season, one of the team's few chances to get a resume booster in non-conference play.
"I've been worried about this game, and people in the department can tell you, since I found out we were playing Belmont," Marquette head coach Steve Wojciechowski said. "I said 'Who did I tick off?' because they're really good."
Down two with 30 seconds to go, freshman guard Traci Carter was aggressive taking the ball up court. It backfired, as he lost control and dribbled the ball right out of bounds.
"Our freshman point guards are going to have to play and learn to excel in those situations," Wojciechowski said. "Those kids are going to be good. The only way for them to learn is to be in those situations."
Ellenson tried to drive the lane on the next Golden Eagles possession, but was called for a charge when he tried taking it through two Belmont defenders with his shoulder. Marquette fouled to send freshman Austin Luke to the line. He hit one of two to make it a three-point game.
Junior guard Duane Wilson had one final opportunity to tie the game as time ran out, but was unable to hit with less than five seconds remaining.
"Half of our team that played had never been in anything like that," Wojciechowski said. "That's new to them. I'm not saying that's an excuse, because we really had a chance to win the game. That's just a fact. Tonight was a 15-round fight. It was the first 15-round fight for many of our guys."
Craig Bradshaw set the tone early for the Bruins, who are known for their 3-point skills. He hit his first two threes of the evening and had four in the first half, nearly all in impressive fashion. He finished the night with 18 points.
"He made four early threes, and I'd say three of them were 'don't take that shot' kind of threes," said Belmont head coach Rick Byrd. "He's an exciting player, whether you coach him or watch him."
Defending the perimeter left the Golden Eagles open inside, which was a serious issue for Marquette. 6-foot-8 forward Evan Bradds, who led the NCAA in field goal percentage last year, had his way with Luke Fischer on the pick-and-roll. Bradds, who finished the game with a team leading 24 points, was left all alone in the paint on numerous occasions.
"They spaced the floor with four shooters, so (Bradds) has a ton of space to work with," Wojciechowski said. "They are a team that hits eight threes in the first half, has two four point plays. That forces you to dial up the perimeter."
"That's on us," Fischer said. "Our help has to be there. (We had) miscommunication. Obviously we have to be better at it.
Ellenson finished the night with his first career double-double, scoring 21 points and grabbing 16 rebounds.
"I thought Henry had a good game," Wojciechowski said. "For a freshman, playing in his first college game against a team that's very well coached and does a lot of really good things, I thought Henry did a really good job. Henry's a really good player, and he'll continue to improve with experience."
The Golden Eagles had a nice showing of Sandy Cohen and Jujuan Johnson, who both look much more confident than last season. Cohen, who tied for the team lead in points in the scrimmage against Valley City State, had another strong outing offensively. Cohen scored 11 points, including back-to-back threes in the first half to end a Belmont run.
Jajuan Johnson was disruptive on the defensive end, forcing one turnover and tipping multiple passes. He notched 10 points as well.
"(Johnson) has improved quite a bit," Wojciechowski said. "I thought he did some really good things out there. I thought he played within himself offensively. … We needed him to be experienced. We need our older guys, even though they haven't played a ton of minutes, we need them to act like older guys."
Marquette will play its second home game of the Legend's Classic against IUPUI on Monday. The Jaguars defeated Indiana State in their opener tonight.
News and Notes
–Wojciechowski said after Monday's foul-fest to expect the refs to call games really tight after the rule changes this summer. It wasn't as extreme as the 50-foul bonanza that the Valley City State game became, but nearly any physical contact led to a blown whistle. Both teams finished the game with 22 fouls.
–Three-point shooting will clearly be a point of emphasis at practice for the Golden Eagles, who hit only six of 26. Wilson, who had a down night minus some clutch plays near the end, went 1-for-8 from long range.
–Wally Ellenson and Matt Heldt didn't see the floor in their first game at Marquette. For Ellenson it was likely due to the strong play of Cohen and Johnson, the team's other small forwards. In a close game, the Golden Eagles didn't need to turn to Heldt since the starting bigs didn't get into foul trouble.
–Luke Fischer's double-double tonight was the first of his career. He had 12 points and 10 rebounds.
–Freshman guard Haanif Cheatham had some trouble defensively tonight, but looked very strong driving the lane. He has shown good instincts in his first two outings with Marquette. Tonight was his first career start.
–Marquette's non-conference strength of schedule took a serious hit on the first official night of hoops. Arizona State and NC State both suffered losses to mid-major at best opponents. The Sun Devils lost a close one, 66-63, to Sacramento State while the Wolfpack NC were blown out 85-68 by William and Mary. The Golden Eagles would play one of the two with a victory against No. 21 LSU at the Legends Classic next week. That's all before mentioning No. 17 Wisconsin's home loss to Western Illinois.
–Speaking of LSU, the Tigers had no trouble with McNeese State in their season opener, winning 81-70. Freshman Ben Simmons, the No. 1 recruit in the country, scored 11 points and had 13 rebounds in his debut. He'll be a tough matchup for the Golden Eagles. His size, standing at 6-foot-8, may force Wojciechowski to play Ellenson on him defensively, despite Simmons playing at the small forward position.

About the Writer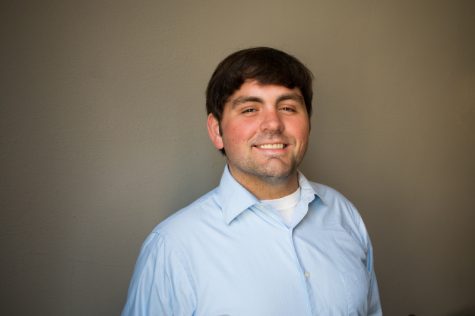 Jack Goods, Sports Editor
Jack Goods is the sports editor of the Marquette Wire, covering the men's soccer, basketball and lacrosse teams. He is a senior from Buffalo, New York...