Jesuit, philosophy professor Roland Teske dies at 80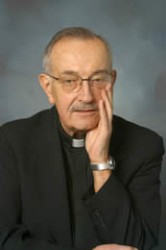 Philosohy professor emeritus the Rev. Roland Teske died May 18, the university announced Monday. He was 80 years old.
"All of us who were fortunate to know Roland readily recall what a kind and thoughtful colleague he was," said James South, associate dean for faculty in the College of Arts & Sciences, in the university news brief.
Teske started his career at Marquette as an instructor in 1970. Before he became a philosophy professor in 2002, he was a visiting professor at Santa Clara University, John Carroll University and Villanova University.
Teske published around 20 books and nearly 100 articles during his career, according to the university's website. He specialized in medieval philosophers and Saint Augustine, publishing over 50 articles on him.
There will be a visitation on May 26 at 6 p.m. with a funeral Mass following at 7 p.m. They will take place in San Camillo Chapel at 10200 W. Bluemound Rd. in Wauwatosa.
Leave a Comment