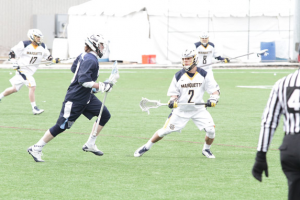 This weekend the No. 19/19 Marquette Golden Eagles travel to the Big East tournament in Philadelphia looking to snag its first postseason win. In its way is No. 13/12 Georgetown, the team that ended Marquette's seven-game win streak at the start of the season.
The Hoyas defeated Marquette 10-9 in the first matchup this season thanks to a very balanced performance from their entire offensive unit. Nine different Georgetown players scored, with senior attackman Bo Stafford being the only Hoya with multiple goals.
Junior midfielder Blaine Fleming tied the game at nine with six minutes to go, but unsportsmanlike penalties to coach Joe Amplo and graduate student attackman Jordan Greenfield gave Georgetown an excellent opportunity in the closing minutes. Freshman midfielder Craig Berge made Marquette pay, scoring the go-ahead goal at the 3:45 mark. Fleming had one final chance to force OT with 10 seconds remaining, but his shot rung off the post.
Georgetown's only conference loss this season came against Denver, one of its two losses since the Marquette game. The other came two weeks ago, against No. 8/8 Virginia. Stafford leads the team in scoring with 50 points, followed closely behind by senior attackman Reilly O'Connor with 44. Stafford scored four goals last week, when the Hoyas snagged the second seed with a 13-10 win against St. John's.
This is the second straight appearance in the Big East tournament for Marquette. The Golden Eagles fell to Villanova 9-6 to end their season last year.
The Golden Eagles will be coming into the game with a few more accolades than the last time they took the field.
The Big East announced its major lacrosse awards. Redshirt junior midfielder Kyle Whitlow, redshirt junior defenseman B.J. Grill and redshirt junior long-stick midfielder Liam Byrnes were all named Big East first-team All-Americans. Greenfield and junior attackman Conor Gately were named to the second team.
A head-turning season for the Golden Eagles could have led to Amplo winning the Big East Coach of the Year award for a second year in a row, but the man on the other side of the field this weekend, Georgetown's Kevin Warne, was chosen instead.
The game will be aired live on the Big East Digital Network at 3:30 p.m. Thursday. The winner will face the winner of the No. 4/3 Denver-Villanova matchup, which will take place following the first semifinal at 6 p.m.