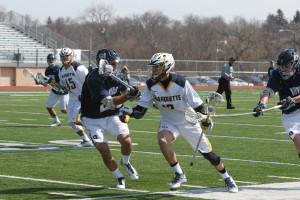 The No. 11/9 Marquette men's lacrosse team kicks off its Big East schedule Saturday against the Georgetown Hoyas, with the Golden Eagles perfect record still intact. Marquette (7-0) will return to game action for the first time in two weeks, knowing its success at the start of the season will be moot if the team falters during conference play.
"I'm looking at it like we're 0-0," Marquette coach Joe Amplo said. "I think the week off came at a perfect time for us to refocus our goals."
Marquette starts off its second Big East campaign against a Georgetown team sitting at 5-3, with some impressive outings under its belt. The Hoyas are coming off an impressive 13-12 victory over No. 14/14 Loyola (MD) last night. All three losses came to teams ranked in the Top 20, and their loses to No. 3/3 Notre Dame and No. 4/4 Duke were by only two goals each. It's a telling example of what the Golden Eagles will have to compete with if they hope to win the conference.
"I think the Big East is as good as any conference out there," Amplo said. "Georgetown is capable of beating any opponent."
"Now we've become the hunted, so people are looking to take us down," redshirt junior Dan Mojica said. "We're the top dogs of the Big East conference right now, so we have to fight to keep that going."
The Hoyas are led by a three-headed monster on offense, starting senior attackman Bo Stafford (12 goals and 12 assists), the set-up sophomore midfielder Peter Conley (3 and 22) and senior attackman Reilly O'Connor (12 and 10). Stafford and O'Connor were responsible for half of Georgetown's goals against Marquette last year.
"They are significantly talented, and significantly athletic in the midfield and the attack," redshirt junior B.J. Grill said. "They're a well-coached team as well… They're really good."
The last game between these two teams featured a comeback possibly more remarkable than any of Marquette's come-from-behind efforts this season. Down 9-3 with a quarter and a half to go, the Golden Eagles went on a 7-1 run, featuring a Tyler Melnyk goal with four minutes left to tie the game at 10. Then-freshman Ryan McNamara, who was named to the Big East honor roll this week, scored less than a minute into overtime. The victory clinched the Golden Eagles' first Big East tournament berth, and set up a battle for the regular season championship with Denver the next weekend.
The game was a miraculous accomplishment for the team and Amplo believes it gave his team needed experience for their comeback victories this season. This go around, it means they'll be getting an extra motivated Georgetown team.
"Georgetown looks at it like (they're) capable of giving it to (us)," Amplo said. "It offers them some confidence, and it should offer some paranoia for us."
The Golden Eagles spent spring break training in Florida following their games against Jacksonville and Mercer. This weekend was the first where the Golden Eagles did not play, giving Marquette a chance to rest – or possibly take the team out of its rhythm.
"It was really the first time in our program we had a down week that wasn't focused on game planning," Grill said. "I think it will have a positive affect because it allowed us to look back and be thankful for the position we put ourselves in."
"It helps to have the bodies recuperate for our guys," Mojica said. "(It helps us) get our minds clear and focus."
Faceoff is set for 11 a.m. from just outside the country's capitol. This weekend marks the second time the Hoyas have hosted the Golden Eagles. They defeated Marquette 17-12 during the Golden Eagles inaugural season.