Lacrosse dominant in 12-6 win over Detroit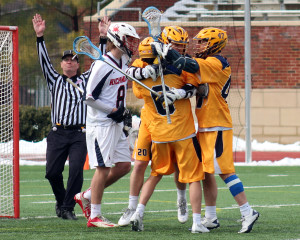 The #17/18 Marquette Golden Eagles were dominant out of the gate, building an enormous seven goal lead on Detroit in the first half. It was enough to carry them to a 12-6 win over the Titans in their first game at the Midwest Lacrosse Classic Weekend.
Junior Conor Gately, fresh off his nomination to the Tewaaraton watch list, led the team with three goals. Graduate student attackman Jordan Greenfield had two goals and an assist, and sophomore Ryan McNamara had two goals.
The win pushes the Golden Eagles to 4-0, two wins shy of the school record for wins in a season, which was set last season.
Marquette's scored seven goals, all from different players, before Detroit beat sophomore goalkeeper Jimmy Danaher with just over 30 seconds left in the first half. Despite the Golden Eagles missing the opportunity to get their first shutout half in program history, Jordan Greenfield capitalized on one final look, making the score 8-1 at the midway point. The eight goals ties a program record for most goals in the first half, set by the team in last year's game against Detroit.
"We came out with the goal to share the ball and move the ball quick," Gately said. "Everyone got their touches."
The Golden Eagles controlled possession for a majority of the game, especially in the first two quarters. Marquette more than doubled the Titans in shots on goal, finishing the game with 45 as opposed to their opponents 20. The ball control began with the Golden Eagles winning two thirds of the faceoffs. Freshman Owen Weselak took a majority of the draws, going seven for 11 on the day.
It appeared that a fire had been lit under the Titans, as Detroit began clawing their way back in the third quarter. Three straight goals from Detroit cut the lead to four, but the Golden Eagles answered with two of their own. Detroit created more offensive opportunities than in the first, but the deficit was never cut more than four.
"We knew Detroit wasn't going to cave in," Amplo said. "It wasn't a lapse on our part, I think they just outplayed us for a ten minute stretch."
Detroit had the opportunity to cut the lead to three after scoring two goals in a row in the minutes prior, but the Golden Eagles forced a much needed turnover to stop the bleeding. Gately and McNamara each scored in the final five minutes to seal the deal for Marquette.
"We were in this position last weekend, down four with almost the same amount of time," Amplo said. "I'm saying 'hopefully it ends better for us than it did for Richmond last week.'"
The Golden Eagles are back in action Sunday when they play Ohio State at noon. The Buckeyes are playing the host Bellarmine Knights this evening.
"We're already focused on Ohio State," Danaher said. "We're done with this game… I'm really excited."
Leave a Comment