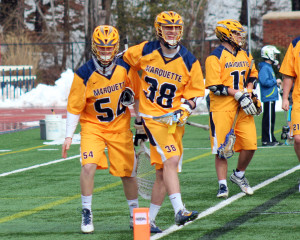 Heading somewhere warm is something many students look forward to over Spring Break. After being exposed to the cold Wisconsin weather for months, taking a few days to rest in the sun does wonders.
The men's lacrosse team will join the swarm of people flying this weekend, but the team has work to do on its southern excursion.
For the second week in a row, No. 15/13 Marquette will play two games in three days. The Golden Eagles start the weekend Friday evening against Jacksonville, then head north to play Mercer on Sunday.
Jacksonville (2-1) scored eight unanswered goals in a 14-8 come-from-behind victory against Michigan Tuesday. Marquette is still looking for its elusive first win against the Dolphins. Jacksonville won the team's first matchup 14-8 two years ago. The Dolphins defeated Marquette last season 9-8, despite a late two-goal rally from Ryan McNamara. It is the only time Marquette has lost a one-goal game.
"I think we have to go in remembering that," said Liam Byrnes, redshirt junior long-stick midfielder. "Last year we thought we should have beat them, or were better than them, and that came back to haunt us."
The Dolphins are led by junior attackman Tom Moore, who has six goals and six assists through three games. He's joined on the offensive unit by his brother, senior attackman Rob Moore, and senior midfielder Quint Miller. Rob Moore and Miller each had three goals against Marquette last season.
"They are going to come after us, because they know that they can beat (us) and they've done it in the past," said sophomore Jimmy Danaher, who made his Marquette debut against Jacksonville last season.
Mercer (0-3) has struggled mightily thus far. The Bears have failed to hold a team below 15 goals, and the team has scored an average of less than seven goals a game. Marquette defeated Mercer 14-11 two years ago, the only other meeting between the teams.
The Golden Eagles understand the targets on their backs grow with every victory, but the 12-6 victory against Detroit last week is a good sign the team isn't going to look past any opponents.
Following the games, the Golden Eagles will stay in Florida to train for the week. Coach Joe Amplo said he sees it as an opportunity for a second training camp of sorts before kicking off Big East play against Georgetown March 21.
"(We'll) get back to the fundamentals, back to the basics and really focus on us," Amplo said. "Next week is about getting back to square one so we can get ready for Big East play."
Players are excited for the opportunity to practice outside consistently, which the team is unable to do in Milwaukee in the first month of the season.
"I can't wait," Danaher said. "I get to wear shorts and a T-shirt and run around in the sun. It's definitely a lot different than here."