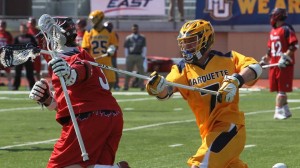 Marquette men's lacrosse needed a bounce back victory after suffering their most surprising loss of the season at Bellarmine earlier this week. The team wasn't at peak efficiency, but they had enough to defeat St. John's 14-12.
Graduate student attackman Jordan Greenfield led the team with three goals and two assists, sophomore attackman Kyran Clarke was the chief setup man with a goal and five assists, sophomore attackman Ryan McNamara had three goals and an assist, junior attackman Conor Gately had two goals and an assist and junior midfielder Blaine Fleming had two goals. Sophomore goalie Jimmy Danaher had nine saves.
A game after tying the program for the fewest amount of goals in single game, the Golden Eagles were one goal away from tying the program record for most goals scored.
"I think anytime you can get goals from guys you don't normally get goals from like Liam Byrnes and Jack Richard it helps a lot," Greenfield said. "It takes the burden off guys like me, Conor Gately and Kyle Whitlow."
Not only was it an important bounce back for the team as a whole, but especially for K.C. Kennedy. He struggled in the Bellarmine game, only winning six of his draws. This weekend he went over 50 percent, winning 16 of 29.
"The past three times out have not been his best performances, and he really took it to heart," Coach Joe Amplo said. "I didn't even have to challenge him he challenged himself… The one thing we could count on today was that K.C. would make it a war in the faceoff X."
The Golden Eagles did their best to contain St. John's leading scorer Eric DeJohn, who finished with three goals and four assists.
"I slipped on the first goal," redshirt junior defenseman B.J. Grill said. "The second goal was a miscommunication. The plan was to slide underneath to me early in the game, and we changed that up. That gave me a little more responsibility and a little more freedom."
Marquette discovered that sliding to DeJohn allowed him to serve as more of a playmaker, and eventually decided the best way to handle him was isolating Grill on him. Grill said that he was much more successful once the change was made.
It was the first of three home games for the Golden Eagles, ending the team's ten game road streak.
"It's unbelievable the feeling you have waking up in your own bed before you go to a game," Grill said. It allows you to be on your own schedule, get your treatment before games in the training room… It was good to have friends and family come out and experience the Marquette atmosphere on a beautiful Milwaukee day."
The first two quarters were sung to the same tune. The Golden Eagles would come out to a hot start, only to see the Johnnies chisel their way back into the game.
Marquette went on a 5-1 run to start the game, passing last game's total of three goals in the first six minutes. St. John's would answer with three unanswered goals of their own, a sign of things to come in the game. The teams continued trading runs, as each team strung three goals in a row before the halftime horn. The Golden Eagles were up 7-6 after two.
The Golden Eagles pulled away in the third when they outscored St. John's 6-3. Marquette took very smart shots that led to a 66% shooting percentage.
"I thought we were real smart on offense," Amplo said. "We were really hungry on the groundballs in the third quarter, which allowed us to get some more possession time."
St. John's mounted a comeback in the last three minutes. Amplo said he worried the Red Storm began figuring the Golden Eagles out, but the five goal deficit was enough cushion for Marquette. Thomas Marron, James Bonnanno and DeJean all scored in about a three minute span, but time ran out on the Red Storm.
Marquette will be in for its biggest test yet on Tuesday evening, when the team heads to South Bend to play the No. 1/1 Notre Dame Fighting Irish. Notre Dame (7-1) is coming off two enormous wins against Syracuse and Duke.