Marquette heads to Ann Arbor for pair of scrimmages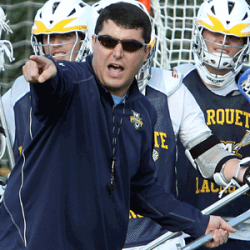 Marquette finishes its exhibition season this weekend with a pair of scrimmages in Ann Arbor, Mich., starting at noon with a match against Michigan for a third straight season, and Denision two hours later.
Coach Joe Amplo said he plans on primarily using the top half of the lineup against Michigan, while giving others a starting role against Division III Denison. Unlike last weekend's scrimmage against High Point, the Wolverines are on the same time table as Marquette. Both teams open their respective seasons the following Saturday, creating close to a game-like atmosphere this week.
"Scrimmages are always funky," Amplo said. "Walking away you're never satisfied. I've learned that you can never be overly disappointed. You're never as bad as you think you are, and you're never as good as you think you are."
It will be the first chance for many of Marquette's top players to get minutes similar to what they'd experience in a regular season game. Midfielders Kyle Whitlow and Ryan McNamara, along with attackmen Conor Gately and newcomer Jordan Greenfield, will be the focal points of the first team offensive unit.
Both scrimmages will be played in Oosterbaan Field House. Since the field is not regulation size, Amplo said Michigan has a home field advantage.
"Traditionally we'll play a really aggressive ride, so it spreads the field out," Amplo said. "Playing on a short field makes it even more challenging."
But Amplo was able to find the positives as well.
"The best part about it is that it'll be 70 degrees, and not raining or snowing."
Michigan is touted as a future fixture in the newly formed Big Ten lacrosse conference. Entering its fourth season, Michigan's promise hasn't translated to success just yet. The Wolverines finished 5-11 last season and were the bottom seed in the inaugural Big Ten preseason poll.
"They've really challenged themselves with the schedule they put together," Amplo said of Michigan. "People will say they haven't been as successful, but they've played against the best teams in the country."
Returning for his sophomore season is Michigan's breakout star, Ian King. As a freshman, King led Michigan in scoring with 32 goals and one assist. He was one of three Michigan players to be named to the preseason Big Ten Players to Watch list.
Denison had a historic season last year, finishing with a 19-1 record and a trip to the Division III tournament quarterfinals. The Big Red is ranked eighth in Inside Lacrosse's preseason ranking and ninth by the Lacrosse Magazine and the United States Intercollegiate Lacrosse Association among DIII programs.