Men's lacrosse loses both weekend scrimmages
Gately and McNanama score three goals each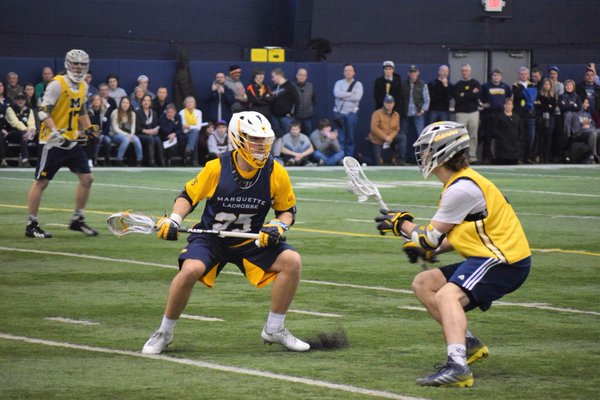 Marquette wasn't able to win either scrimmage in Ann Arbor, Michigan this weekend, falling 15-13 to Michigan and 11-5 to Denison.
"I think the biggest thing for them is that they've got to play like the same team we've been, and that's a team that's trying to prove ourselves," said Marquette head coach Joe Amplo. "Not that we played with the assumption we were going to be good on Saturday, but it certainly looked like it."
Amplo isn't going to panic, as the Golden Eagles lost handily to Michigan last year and turned out just fine. Their greatest growth will happen in the first three weeks, and this was just the first step.
"When looking at the mistakes, they're all correctable, which is exactly what scrimmages are supposed to be," Amplo said.
Junior midfielder Ryan McNamara and senior attackman Conor Gately scored three goals each against Michigan, while freshman attackman John Wagner scored twice. Senior attackman Phil McFarland was the only player with multiple goals against Denison. He scored three of Marquette's five goals in that scrimmage.
Graduate student Liam Byrnes moved from long-stick midfielder to close defense, and Amplo said at practice earlier this week that he could stay there depending on the success of the remaining LSMs. After the scrimmage, Amplo said redshirt senior Tyler Gilligan has a ways to go after the first scrimmage and redshirt freshman Jordan McKenzie will likely miss significant time with a knee injury, but they are still on course to keep Byrnes on defense.
The brightest spot of the weekend for Amplo was the play of Wagner, who got over his nerves as the game went along.
"After throwing up in the bathroom before the game John Wagner played like a sixth grader the first half and then I was very proud of him for coming on stronger in the second half," Amplo said. "That was the best moment of the day, watching him grow through that."
Marquette played a full scrimmage against Denison, a Division III school, giving the reserves an opportunity. Amplo said no one showed they deserve a bigger run with the first group and he was disappointed in the group's play.
"They didn't play with any sense of urgency, fire or willingness to prove anything," Amplo said. "They were kind of just out there. That part of it was somewhat embarrassing."
The Golden Eagles play their third of four scrimmages this weekend against High Point in North Carolina.
Notes
Inside Lacrosse put out its first media poll of the season, and Marquette is sitting just outside the Top 20. The Golden Eagles are receiving the second most votes of the teams outside the poll, just behind Stony Brook. Three BIG EAST teams are in the Top 20: Denver at No. 2, Georgetown at No. 14 and Villanova at No. 19. Three additional opponents on this season's schedule are in the rankings: No. 1 Notre Dame, No. 3 Duke No. 12 Ohio State in addition to No. 15 Cornell, who Marquette scrimmages in two weeks.
Three players who weren't suited up this weekend – Kyran Clarke, Blaine Fleming and Noah Joseph – should all be back playing this week according to Amplo.
Leave a Comment